I'm confused... I've been reading about BSC from the following sources:
http://trueaudio.com/st_diff1.htm
http://sound.westhost.com/bafflestep.htm
And I've come to the conclusion that a BSC passive filter looks something like this: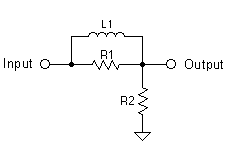 Well, I'm attempting to adjust the BSC filter from the following crossover network to accommodate a wider baffle that the designer intended. I already have the cabinets built with the same driver compliment and would like to apply his crossover network to it.
http://www.htguide.com/forum/showthread.php4?t=18946&page=1&pp=35
[IMGDEAD]http://www.whatisrazar.com/crossover.jpg[/IMGDEAD]
The design was originally for a 7.5" wide baffle. My baffle is 11.5" wide. I've calculated that this should drop the f3 of the diffraction loss from 608Hz to 397Hz.
My QUESTION (finally =) is....
How do I alter the crossover network shown to reflect this? I don't even really see the BSC filter clearly in the schematic. Help?