I have resurrected the filter designer project, with some updates from last week:
- Now i am able to plot frequency/phase responses of digital biquads
- I have made a GUI for chaining filter blocks into signal paths:

Implemented FFT (FFTW3-based) with various window functions and smoothing (currently works with WAV files and built-in noise generators):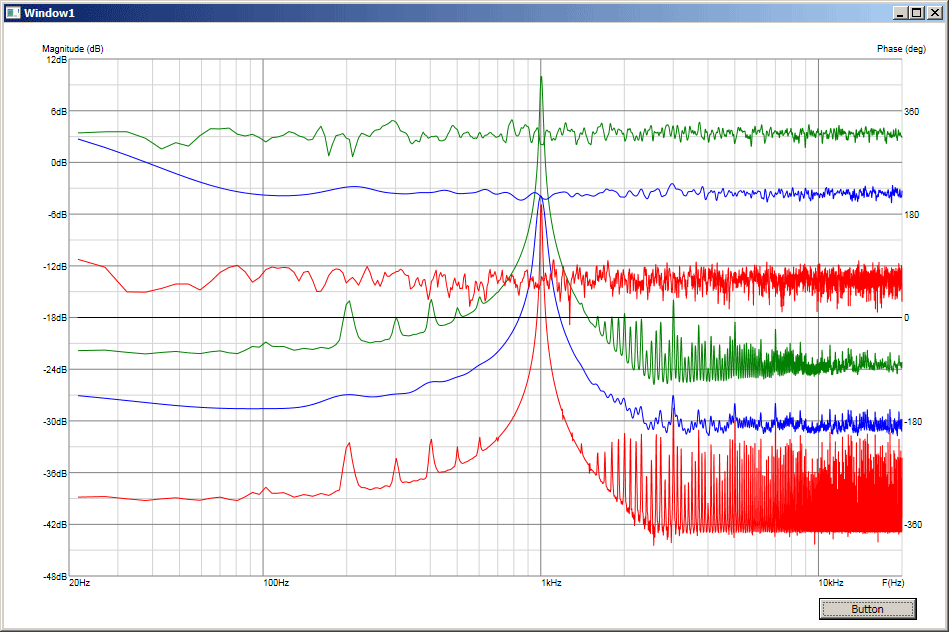 - White/pink noise generators.
- WAVe file read
For now:
- No sound input/output
- No biquads calculator from actual transfer functions - probably, i'll need to do the math myself/grab it from books/internet.
- No solid synched envirement
The idea:
1. Take analog transfer functions (filters)
2. Chain them in the blocks-designer
3. Modify their parameters with control points on the graph
4. Generate digital biquad coefficients for the actual transfer functions
5. Apply the biquads/signal path to some DSP software core (in the program, or external plugin for foobar)
6. Play white noise/impulse/whatsoever thru these digital filters, and measure response of resulting speaker+filter combination with microphone
7. Display the measured response on the graph, where you have control points from step 3.
8. Repeat it.
The idea behind this is to keep everything "realtime", i.e. when you move the control point, it changes biquad coefficients, and the playing music passes thru these coefficients - and you hear what you are doing in real time (as well as measure it with built-in functions generator/FFT).
When you settle on particular filter configuration, you "build" it for following targets:
- Analog board from this thread (or any other)
- TAS3108 DSP board (to be designed)
- Software Foobar 2000 plugin (to be designed) (maybe winamp too)
- Other platforms - as biquads list (or any other way, need to reverse-engineer the particular applications).
All this i'd like to put in Microsoft Visual Studio-styled environment (MDI).
Kinda WYSIWYG editor for filters
Wavelets, CSD et cetera would be nice, but the features listed abowe should be implemented first.
Todo:
- Frequency response import.
- "Box" control point, for modelling speaker boxes
- "Real Bafflestep" control point for baffle diffraction simulation (where could i find the math equations/theory for this?)