Techeunion TU-9015 or Unistar 15A2
---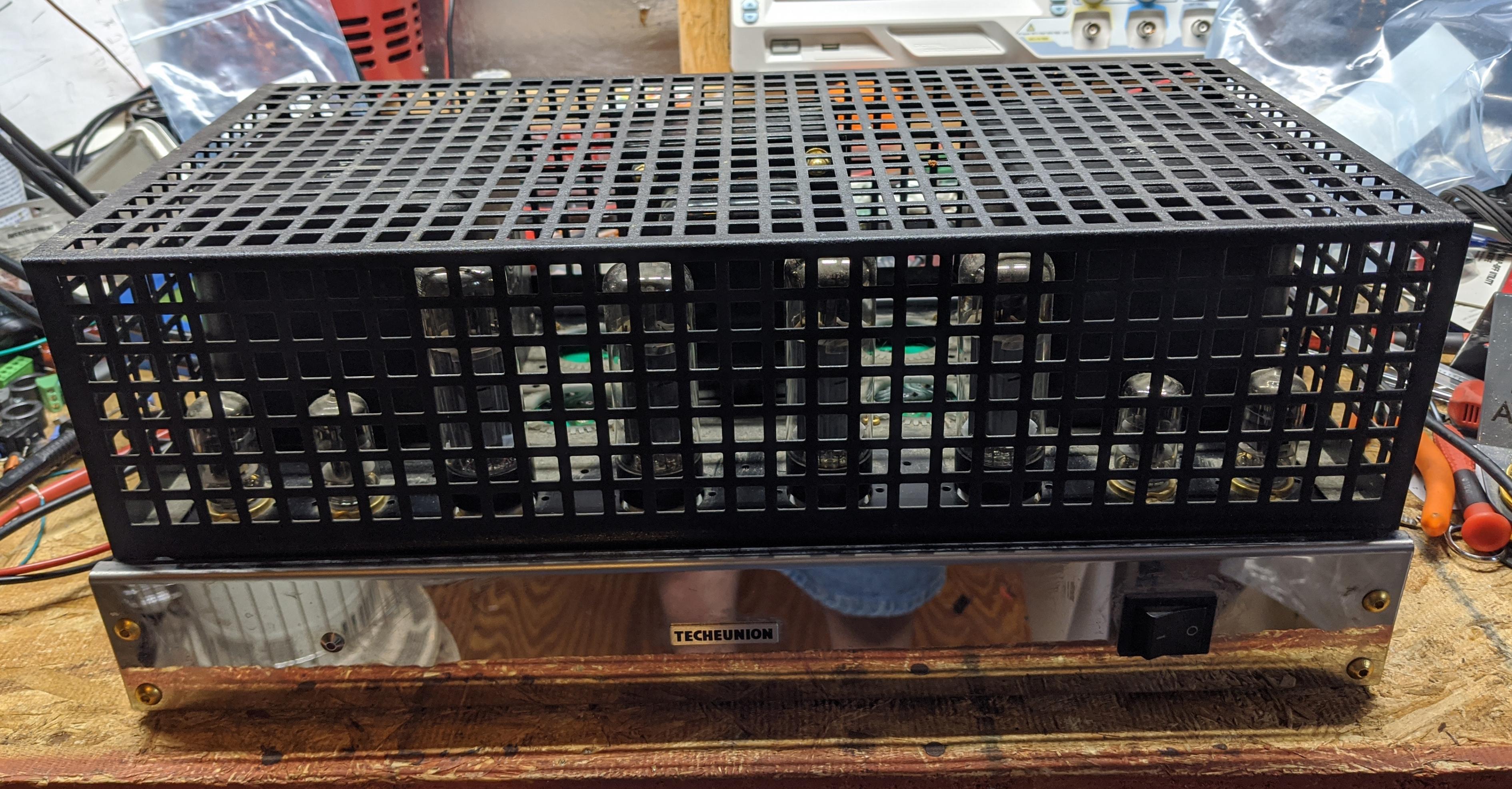 This looks identical to the Unistar 15A2, and the PCB is marked as such.
I'm posting this mostly as a way to have a little more information out there about this amp. And I have a question about it. But if not, hopefully this will help someone someday with one.
A coworker got this amplifier from her father and asked me about it. Nearly nothing can be found about Techeunion on the internet(other than not cheap anyway), but found a statement(later decided was false) that made me really curious about it and I could see solid state inside too. So I offered to check it out and recap it cheap so I could look it over. Decided to make a schematic for it. Lots of notes in the schematic. Interesting design with the plates at chassis voltage. SS soft start. Diodes to protect the grids from being positive to cathodes on startup, see above about the plate voltages. No capacitors in the pre stage.
The amp was supposedly bought new in Taiwan in the mid to late 1980s. What little I find online is that the tubes are 12AT7×2, 12AU×2, EL34(6CA7)×4. Someone wiped the markings off the tubes, except for the first tube which is a 12AX7. Someone also J-hooked a 76K resistor inline with the factory 100K feeding the input tubes. The amp has enough gain that a preamp isn't really needed. Was hoping someone would come along here and tell me what tube is supposed to be where. My gut feeling is 12AT7 in the input stage, and 12AU7 in the phase spliter stage. And someone, again supposedly never worked on, add the resistance to rebias the input tubes.
Amp is quite heavy, so I expect it's got good iron. Build quality is quite high. Sounds very good to my ears with my speakers. If I can keep the amplifier a while I might try to do some actual measurements on it. I give it a 'would like it in my room' rating. Board is decapped in pictures.
Thanks
Cory