For sale: Turrets and Board Material (UK)
---
I have a large number of turrets and turret board material for sale; photo: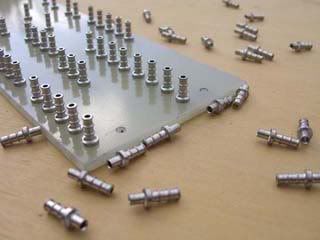 Larger photo:
http://i81.photobucket.com/albums/j2...e/Turrets2.jpg
The turrets are flat-topped, solder dipped. These ones are ex-stock and were precision made in England for the military until recently. Made from highest quality rivet brass- this makes them much easier to install than anything else you find in the UK (and US imports for that matter). They require a 2.8mm (7/64") drilled hole, though 3mm will do at a pinch.
They will fit anything up to 2.6mm thick board easily, and will also fit 3mm board provided you counter sink the holes a little bit (as I do).
Price: £5 for fifty.
The turret board material is G10 garolite (glass reinforced plastic) in fetching snot green.
It is 3mm thick and 70mm wide (1/10 inch thick, 2&3/4 inch wide), and I can cut any length your heart desires.
Price: 50p per inch (so a 10 inch long piece would cost £5).
UK inland postage is FREE on orders over £10! Payment by cheque, Paypal, postal order or cash.
Contact me at:
merlinblencowe AT hotmail (DOT) com