Quote:
Originally Posted by
Ian Finch
Thats very nice looking assembly work but I can assure you, that with the IPS power separated from the main power rails and with low Cob VAS transistors, it will sound nothing like a Naim clone. However, if this design is to your preference, then enjoy - it will be much closer to mainstream audio sound but possibly better quality if you are adjusting the values of passive components appropriately for the sweet spot of bias etc that is better suited to your substitute transistors.

One suggestion though - lose the craptanium TIP41/42 drivers. MJE243/253 are not really necessary with power transistors like 2SC5200/A1943 but they are more linear with better gain over a wider range of operating conditions such as sounding better over the full volume range which, as I found with many different Naim clones, was quite narrow and best with the volume quite low. Try the MJE types using genuine, not Ebay sourced parts. They are available in most major cities and by post from authorized European distributors. There are other, more suitable audio driver types from On Semi, Toshiba etc too so there are many, good quality options for you.
Thank you, Ian, for the nice words of appreciation.
It is confirmed, this is now the fifth release of the NAIM clone that I realize and after the first two, it is now several years that I have abandoned the original scheme consisting of protective net, fully linear power supply and the original ZTX transistors of the VAS stage.
Today's is actually an amplifier with a very different sound and that of the original NAIM only retains the particular talent for musical timing and the performance of a bass particularly fast, extended and articulated.
Clearly and always of course IMHO, what after years of attempts, modifications, refinements now sounds in my living room with an extraordinary musical nuance and a magnificent mix of timbre and sound-stage would not change with anything else.
As for the driver transistors, I unfortunately posted by mistake an old scheme because for 6 / 7 years now, I have definitely abandoned the TIP 41/42 for the MJE ON (personally after some tests I preferred
MJE15030/MJE15031
to MJE243/MJE253) as actually in terms of delicate "breath" and refined detail of the mid and high, are at least two palms above.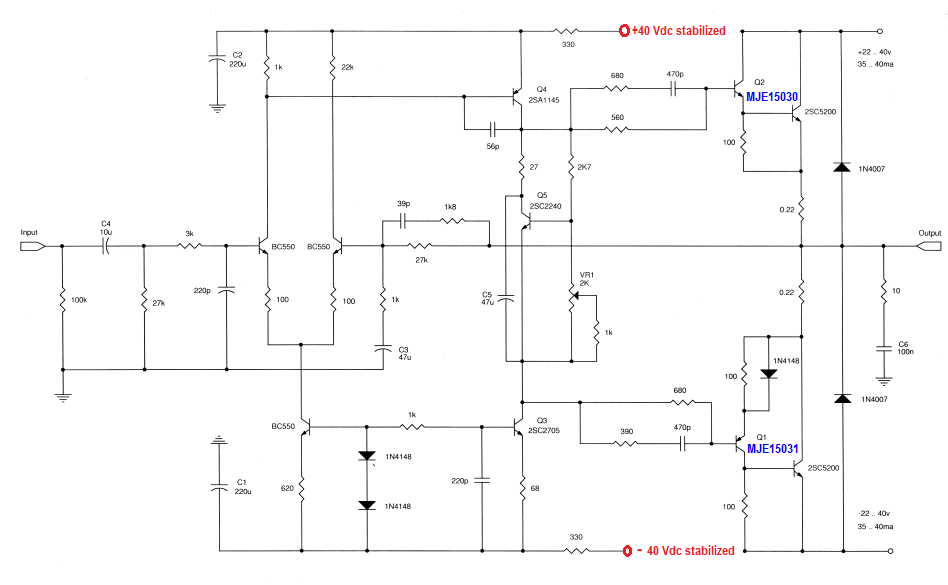 And I have no difficulty in admitting that if today I have an amplifier that in my audio setup sounds like no other commercial amp purchased and tested in over 40 years of passion, I owe it also thanks to the important points of reflection that your posts and those of a few other friends of the forum, have been able to offer over time.
Thanks.