I lucked on a batch of 33 5U4G / 5AS4 rectifier valves a few years ago. 75% of those were made by AWV (Radiotron ala Radio Designers Handbook), and helped confirm the date-coding used by AWV in a thread last year:
AWV local valve dating - 5AS4 and 6DQ6A at least
Although I haven't put these valve diodes to work in amps, they have kept giving - by way of doing some uncommon tests. None of these valves are known to be NOS - there useage history is uncertain.
Firstly, I tested them all in a 500VDC output power supply to confirm no abnormal behaviour. 4 were bad, so they got separated.
One uncommon test is to measure for imbalance of plate-cathode current. I used three constant plate-cathode voltages (24Vdc, 36Vdc, 49Vdc) to measure diode conduction current. Most valves showed good balance between the two diodes, with only a few having one diode conduct less than 80% of the current of the other diode (for the same applied voltage). 40% of the sample showed at least 90% balanced conduction. Below is a plot for the 29 samples tested, showing the % balance in plate currents.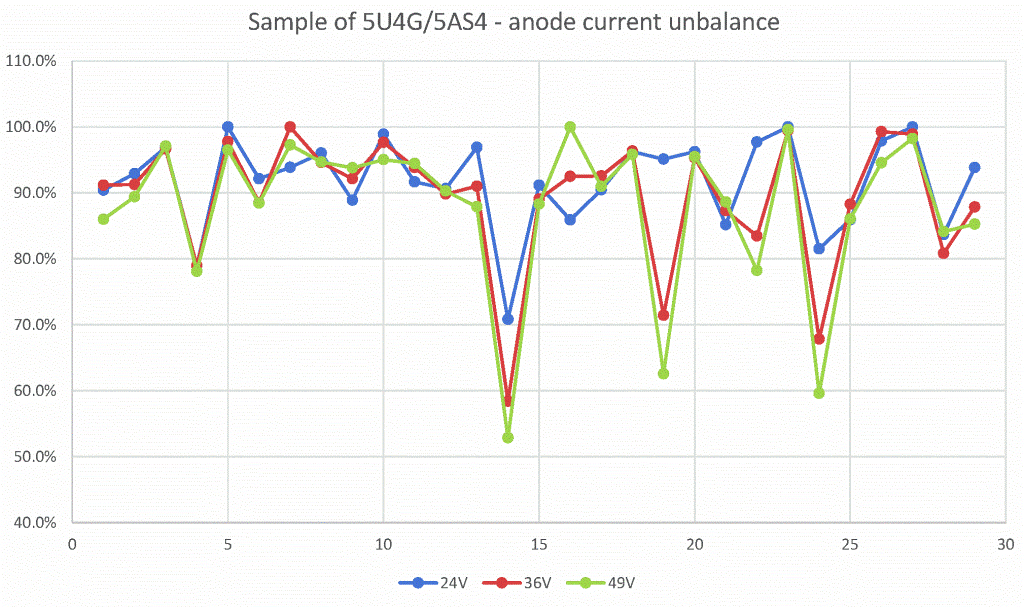 Does unbalance mean anything? Well not really anything that is noticeable, unless imbalance gets worse with age, or shows a higher level of sag for increased loading. A spectrum analyser may be able to show some mains frequency versus 2nd harmonic hum difference, but it is likely just academic in this modern age of large value capacitors.
Another uncommon test was to measure PIV leakage current, by using a modern Insulation Resistance meter (ie. megger). I connected my handheld digital QM-1492 megohmmeter between each plate and heater/cathode in turn to measure IR (insulation resistance). These diodes have a nominal 1,550 volt PIV, and the megger can test at up to 1kV and measure lower than 2,000 Megohm (ie. 0.5 microamp). 14 of 28 valves showed IR > 2 Gigohm for both anodes, both initially when cold, and after the heater was on for a while. 5 valves showed both diodes with a relatively low IR (eg. < 100 Megohm). 3 valves initially showed some measureable IR, but IR then recovered to > 2G when heaters were powered - one valve showed the opposite effect. 5 valves showed one diode with IR > 2G, but the other with a measureable level.
One likely leakage path is from filament vapour deposition on to mica, especially if only one diode has low IR. On a few samples I tested, the IR value increased with lower test voltage (ie. leakage resistance is not constant). I haven't yet seen a manufacturing rejection/pass test for a typical power diode, so not too sure what level of leakage would have been accepted at the factory.
This IR testing does indicate that even a simple 1kV megger can show up suspect valve diodes, although a diode may need to show quite a low IR for it to be a problem in a power supply. A diode with low IR may also be more prone to initial arcing (ie. when PIV is max).
I'm hoping to extend the test voltage up to 1.6kV, still using the 1kV megohmmeter, but adding in a 600V power supply in series. Given the measured increase in leakage current seen from increasing the test voltage from 250 to 500 to 1kV, it will be interesting to see how many of the 14 valves with > 2 G at 1kV still show > 2G at 1.6kV.
Ciao, Tim