The MCRU new year sales starts today!
---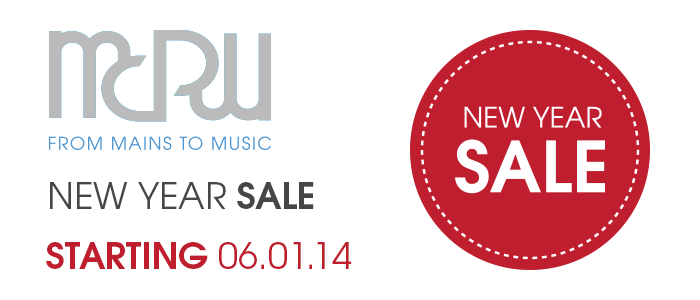 MCRU are starting 2014 with a New Year sale that rewards their discerning customers, and celebrates their successful relationships with some of the worlds-best hi-fi accessory manufacturers.
We will be offering a range of extra special deals on selected branded items, details of which will be listed daily, right here on our website. (Why not go ahead and bookmark us right now!)
Having negotiated some smart deals on the highest-class cables and equipment direct from the top-brand manufacturers we're keen to maintain our position as a trusted source of quality when it comes to delivering the goods that deliver your sounds. So, whether you're a remote online shopper or fancy dropping in to one of our two demonstration rooms to have a chat, and try before you buy, this is a great time to ignore the few extra pounds you may have gained at Christmas, and spend a few quid on some great gear that will last you a lot longer than your New Year's hangover.
At a time when everyone's shuffling round DFS and BHS we've made life easier for you to shop; not by rushing for your attention or trying to sell you stuff that you'll regret purchasing before you've dropped your New Years resolutions – but by offering some genuinely great deals on some very sensible purchases.
So; Happy New Year from MCRU! Let's get off to a good start – check back here daily throughout january as we will be adding more items as the month goes on, whether it's cables from
Black Rhodium
, a
pair of headphones from HiFiman
or simply a surprise purchase to enhance your listening in 2014 we're bound to have something that will resonate with without breaking the bank.
__________________
Current System | TW Acustic TT | Music First Ref. Phono Amp | CAD 1543 MKII DAC | Fidata Music Server | Soulution 5 Pre-Amp | Soulution 7 Power Amp | Maxonic Speakers | IsoTek EVO3 Nova | A Chair