There has been a lot of hinting around on this forum about driving power humbger orthos like the HE-500 and HE5-LE. I'll admit the first time I heard a pair it changed the way I think about headphones, these are really revolutionary in tone, presentation, illlusion of live performance etc.
If you want a hybrid, I did several simulations of the Moskido, and for the cost to build one, the performance of the Lyr is just outstanding and really doesn't justify building a DIY hybrid
Unfortunately there is little DIY (especially tube) effort for this. If you have a balanced DAC there is the wire Bal-Bal but thats about it. A SE opamp gain stage is pushing the edge with typical +-18v rails.
What I always liked about headphones was the low power requirement, making SET have practically zero audible distortion.
But orthos change that, according to Hifi-man the HE-5LE needs 2 watts headroom, thats over 16V pk-pk swing. Now I find my normal listening is more with NwAVGuy's estimate of 1/2w (from is excellent "more power blog".)
What I a presenting is a simple fairly low cost SET that should compete with the Balancing Act, WA5, Stratus, etc. The key of course is the OPT. IMHO the low winding ratio with the right wind could knock the socks of the commercial amp. B+ simply madia, ccs cascode DN2540.
The gain is lowish for a DHT amp but at 2W into the 38 ohm load it simulates with -46db2H and -56 3H, at normal listening levels the distortion should be inaudible (below -60db).
Of course rod coleman filaments are a requirement, but the tube cost saving pays for these easily.
The tough part is finding an low distortion efficient OPT transformer.
Any thoughts ?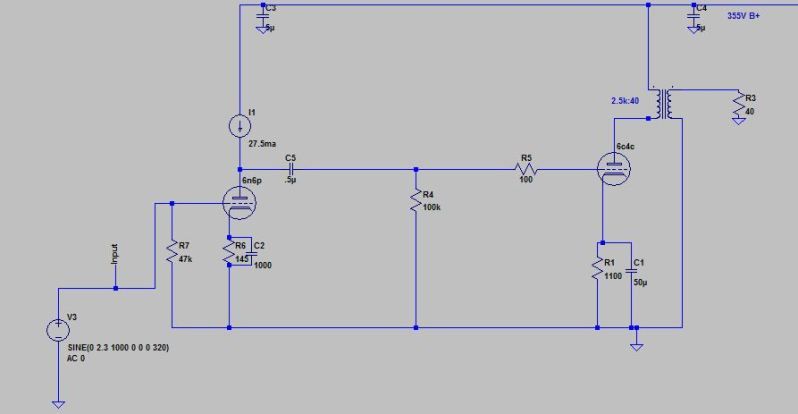 .