Victor,
I have finished and tested my TU8340.
I have been trying to add a post to the ELEKIT Audio asylum site, but for some reason have not been successful. 3 tries now and nothing comes up.
Might be my browser.
Attached is some info and a few pictures.
Below is the post I was trying to add.
Fantastic amp.
I was going to build a Solid State amp as well, but will not bother now. No need.
Hi ELEKIT fans,
I am a new poster on this forum, but have built 3 kits now TU8500/8200/8340.
First let me thank Victor for his enthusiasm, and for making these excellent kits and upgrades available, even internationally. I don't think he sleeps, judging from the speed of his Email responses.
Also thanks to all the other posters for updates on builds, issues and resolutions.
After building the 8200/8500 combo, I could not resist the TU8340.
I opted for the 2% resistor kit, and the Mundorf silver/gold cap upgrade.
For testing, EH6550 tubes, CV4024 Mullards, Triangle TITUS EZ speakers, Marantz cd player
Thoughts on the TU8340 below after a listening session with friends:
1: It worked first go after assembly
2: The auto bias is fantastic (Christmas tree light show)
3: The sound is luscious, even without a huge amount of burn in.
After playing a wide variety of CDs (Frank Sinatra, Pink Floyd, Beatles, Hip Hop, Radiohead, and some scratchy guitar pop) we came to a few conclusions.
The sound stage is wide and immersive.
Vocals are exceptional. (Frank Sinatra was in the room)
Acoustic guitars sound beautiful
Drums still have snap, crackle, pop and wallop
Bass was way better than expected. Low synths and bass drum samples were huge. Even allowing for the smaller Triangle TITUS speakers.
Some info on 8200/8500
I found, like others, the 8200 was a bit bass shy, so I went speaker hunting.
Triangle Comete EZ speakers solved this problem for me.
Good sensitivity, double ported front bass, horn style tweeter.
I auditioned a lot of speakers.
Called aggressive and forward by some, but with tubes they do a great job.
With 12AT7 tubes in the 8500 preamp, now even funk and rock sound great through the 8200/8500 combo. The overall sound is almost reference, like studio monitors. Balanced and revealing, but not harsh or artificial. Solid bass and airy highs, with tube mids.
Good for much more than just jazz and late night listening now.
I cannot believe how quiet these tube amps are, and especially the 8500 preamp.
The quality and bang for buck in these kits is unbelievable.
Thanks to ELEKIT for these great kits. No cork sniffing, just good design with innovative features, like auto bias, and solid build mechanics.
DjK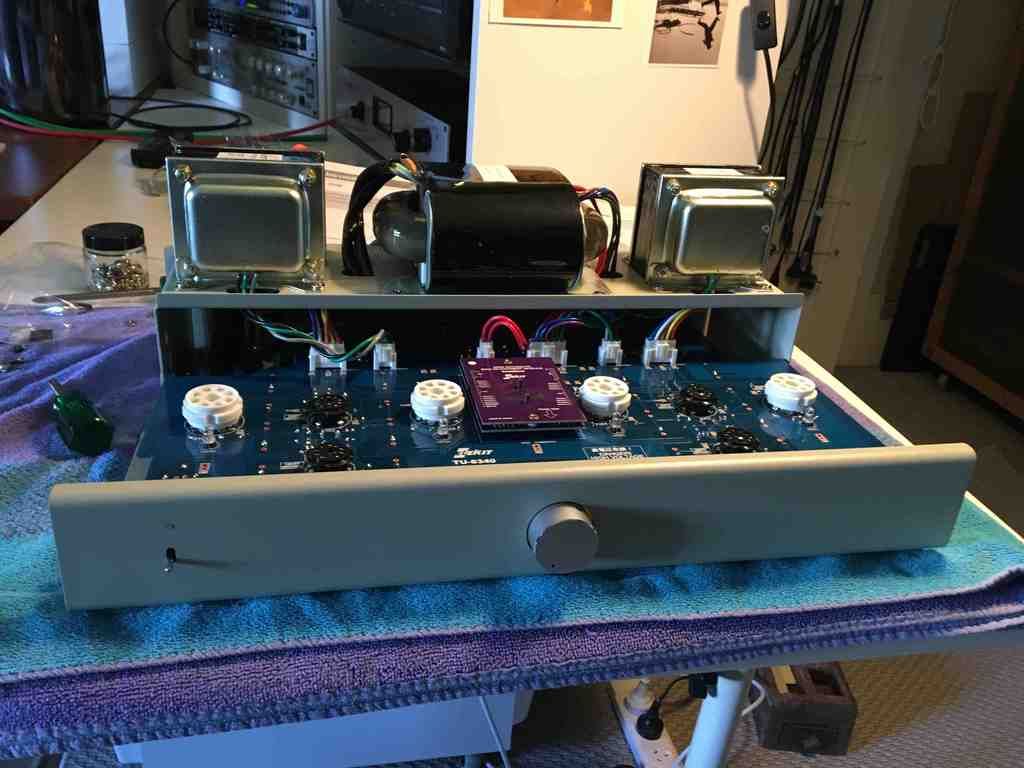 Regards,
Dennis Keath