Hi all,
I haven't done diy audio in a while. I wanted a nice project, so I picked up an AK4490 board from DIYINHK (the red one). I have a headphone amp that I built before, which is LM4562 driving BUF634. I built a power supply with LM317, LM337 and LT1086, which outputs +/- 12V, +5V and +3.3V. This is the power supply: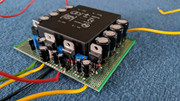 IMG_20180804_104110 — Postimage.org
The USB interface is also DIYINHK, this one: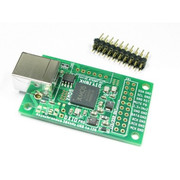 xmos-dsd-dxd-384khz-high-quality-usb-to-i2s-pcb — Postimage.org
And this is the DAC board: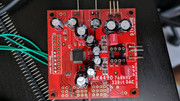 https://postimg.cc/image/qsixzshlz
Everything goes together in this case (the XMOS is under the DAC):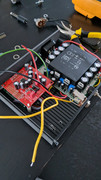 https://postimg.cc/image/9s01r6wvr
The headphone amp is installed, and the DAC board is detached for debugging: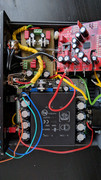 https://postimg.cc/image/perb46sjr
The thing works, however, I have noise at the analog outputs of the DAC. The noise resembles typical ground loop noise, with about 30mV pk-pk amplitude. It can be heard clearly with headphones. It looks like this: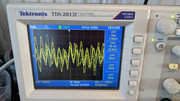 https://postimg.cc/image/9t9zkfqxz
Noise would come from the DAC board, no matter if it is powered or not. I tried to unplug digital power only, then analog power, then opamp (+/-12) power, nothing helps. It is as if the analog outputs are floating and just picking up noise.
I've tried a number of things.
1. The headphone amp itself is dead silent. I have detached it from the DAC and it has no noise. But I've used it before, and I know there is no problem with it.
2. I measured all the outputs of the power supply, with and without load - the noise is below the oscilloscope sensitivity, i.e. below 2mV. Checked up to 100MHz - no oscillations or noise.
3. I have tried multiple grounding schemes, whereas nothing works - star grounding from all ground points of the DAC, one wire to one point, thick wires, short wires, RC filters on the power supply lines. Nothing works.
4. Grounding the XMOS to the DAC directly. Grounding it to the star point. No change.
5. I've tried using a different XMOS. The old version of the one above, which is USB powered and has a separate ground. Does not help.
6. Grounding the case. Not grounding the case.
7. Putting everything out of the case does not help either.
I know this is a too complex problem to give solutions right away, but at this point any suggestion is welcome. I really want to make it work right, as it sound really nice