[IMG]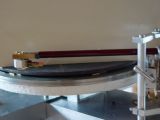 [/IMG]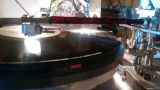 An interesting experiment with glass.
My new Unipivot has a glass tube. This is more stable than that of my predecessors, who last had an aluminum alloy, with the highest strength. (Strongal with 630 N / mmq tensile strength)
The headshell is made of brass, with U profile. Half the length is made of glass and brass. This was glued with Araldit metal. At the end of the glass tube, a mass part of brass and a thin layer of solder is installed. It is clamped with a screw. It prevents vibrations in the pipe. The soft solder I use for more contact surface, since the glass tube is not exactly round.
The weight of the tonearm is, as usual with me, reduced with a magnet. The increase in the bearing weight at the top of a Lp, is reduced with another magnet.
The diamond from the cantilever is at the top of the Unipivot peak.
Two counterweights are laterally far away from the pivot point, which leads to stronger bass reproduction. As solved as the Morch dp8.
Sound Description:
The most noticeable difference to aluminum is a purer sound. Very clear and clean. You have to get used to it first. Depending on the lp, the difference is very clear, barely noticeable. So only a small difference, which I do not want to do without anymore. With the turntable mat may need to be re-experimented.
Aluminum oxide tubes could be even better, because a lot harder. These tubes are too heavy for me, 35 grams for a 9 inch tonearm.
Link for the glass tube:
1300W 254mm R7S Halogen Quartz Ruby Red Infra-Red Heater Bar Tube,Heat Lamp 220V | eBay
UZ8AAOSwvdFcFBrb