Hi there,
Quite many related posts here somewhere, but they are all very long already, so I'd like to create a new thread.
Back in '97 when I read about the Euridice pre amp on the <Sound Practices>, I thought "this is it!".
All these years I've been thinking of it. And my own thoughts about "pre amp" have also been evolving continuously. (especially the concept of digital xover made a big impact)
My own "designs" around original Euridice had evolved to several versions including differential pair, with regulated supply, or even shunt regulator with pentode current source & the likes. I've drawn 5~6 versions of the schematics of such line stage & power supplies. And they looked more & more complicated.
In the end, it seemed that I just wanted to use as many tubes as I have on hand, instead of seeking the best & proper solution.
My previous pre amp was SOZ, sounded OK. A little bit vague in the high & soft on bass but overall open & warm-balanced. And I had an OPAmp-based 2nd order LP filter for the bass amps.
Now I want to combine the pre amp & the active xover into one chassis to simplify my system. So, actually I need 4 active channels in this unit. With this construction, no matter I use it analogically xover now or digitally xover in the future, it's ready as a convenient platform.
After thoroughly readings & thinking, I dropped those complications & made it as simple as can be. Back to basic & decent executions are all I need.
So here it is:
1) LL7902 wired as 2:1 step down input transformer with a 10k load (stepped volume control). I'd like to make a relatively easy load to the upstream equipment. I've tried "DAC chip-direct" with this transformer and got a very good sound. I'll probably do it again. Now the transformers are much further from the chip, so a step down would make it an easier load.
2) The wiping arms of the stepped VR are connected to 2 loads: 1 for passive 1st order HPF & the other to a 2nd order active LPF, both gain stages are mostly original "Euridice".
3) Output transformers are LL1660 (18mA), wired as 4.5:1 (or, 5k:250R approx. )
4) Powered by 2* 6X5GT with 2* 1N4007 as one & a half bridge, fed into 2* 15H/220uF LC, then splitted into 4* 2k/1000uF RC for each tube.
Layout: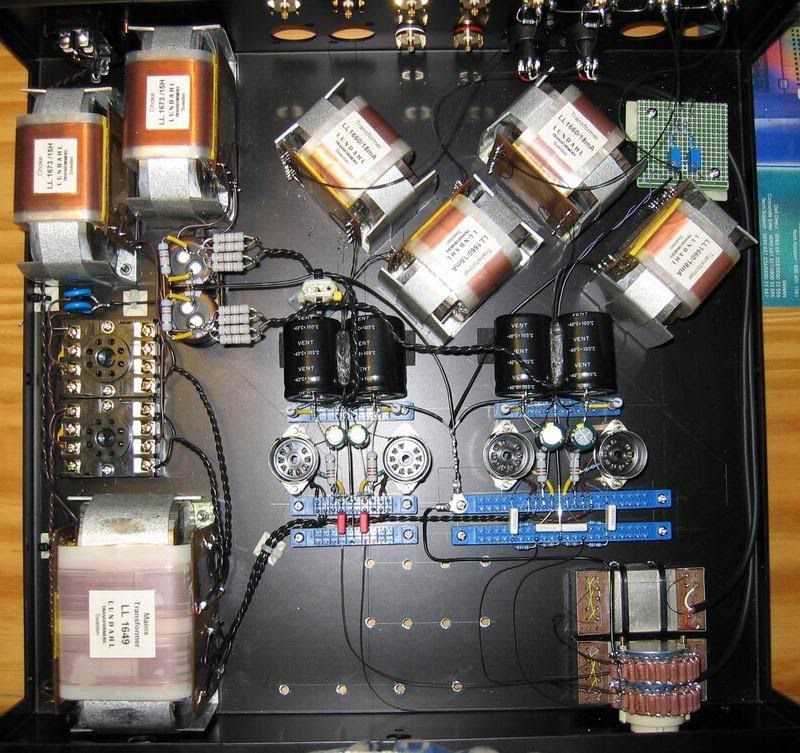 Notice the left, see the "relay socket" ? It's because the limited height, I can not afford to elevate the normal 8pin socket in this cabinet. And I found it a breeze to connect around such socket. Easy & neat!
The output transformers are arranged so for avoiding/reducing magnetic coupling to each other & the power chokes. But I confess, I've done this by "pure guess", instead of real experiments. (There are A LOT OF holes to drill on the chassis, I don't have time to build-test-rebuild... ) I've thought about separating the power portion to another cabinet, but that complicated things in some ways.
There's a massive terrible hum in the first test. Tens of mV of hum! Then I made a virtual CT of the heater winding by 2* 47R & connected the center to ground. That cured the hum mostly but not entirely. ( I'm confused, aren't those heaters insulated from cathodes? Why can't I just let them float? )
In the first 2~3 hours, it sounded awful, really. Strained in the high & bass was non-existent. After that, it loosened up nicely with good extension on both ends. It's sounding good indeed, with crisp trancient, clean & lively performance, but the "upgrading effect" was not so astonishing as Oris horn in my system. Listening carefully, it's surely an upgrade to my previous SOZ in every aspects, but not so hugely as expectation. (my SOZ was biased at 40mA, I like the sound of "big current" )
Concerns & possible tunings:
1) Hum! It's still there, although barely audible on the listening position, it'd of course be better totally gone. I got approx. 0.5V ripple on the B+, but there's no space for more LC or RC. And the heaters are AC powered.
a) Does Ultra-path work on such circuit? If the hum is partially caused by magnetic coupling, does Ultra-path help?
b) Is DC heater necessary or any help?
2) I got 155V B+ after LCRC, 5V shied of the original 160V. With the same 120R cathode resistor, I got only -1.7V bias, which is only 14mA. In the Raytheon specs, it recommand 150V B+ with 60R cathode resistor to get -1.5V bias & 25mA, so I'll probably try this. This tube seems prefer high current to high voltage. So I'll try maintaining the B+ with more current.
3) LL1660 output transformer has 100H in the primary winding. With pretty low plate resistance of CK5842, ideally I can get very very low frenquency out of it. To let them sing all the way down, I use huge cathode bypass caps here - 1000uF in mid-high channels & 2200uF in lows. I'm not sure, before realizing the lowest 1.3Hz or 0.6Hz, there might be other evils coming up. Or, once I try smaller cathode resistor, this "issue" would be mostly gone?
4) 2:1 step down on the input seemed unecessary. And it made the total gain too small, I'll probably rewire them into simply 1:1 isolation. Working around those tiny pins is really painful though...
5) I got several 6C45 lying around, maybe worth a try in this circuit. I've had a simple test on microphonia by tappin on the glass. The CK5842 has a relatively firm & short "tung", and the 6C45 in my 300B power amp has a crisp & very long "ding-ring-ring-ring- ing -ing -ing -ing -ing ....... ". ( Except for tubes themselves, maybe it's also because the 6C45 is working under plate choke / direct coupling with most of its natural amplification, and the 5842 is working with a largely stepped down output trans. I'll do more experiments on these tubes.... )
So, thanks for reading such a long post. It's probably an "old" topic.
Any corrections, suggestions, & thoughts are more than welcome.
Last edited: