I have found a DHT, black base marked Sylvania but there is no type on the tube. Wiped out by history.
Any suggestions? What can it be?
The long plate looks like the VT25/10Y long plate I have, but all my Sylvania long plates have an extra pin to the top mica from the plate. This one does not have that. Also the VT25's all have the mica spacer to the tube on the flat side of the anode. This mystery tube has the spacer on the side, in a different form factor. And the top differs with a short bar to retain the heater side bar for the 10Y and a round structure for the mystery tube. Also, the brand name is stamped in the bakelite base (recessed) and there is a designator
H7R
next to the logo. The 10/10Y have a modern printed logo on the base.
But more important: the
resistance in cold state
of the tube differs:
the VT25 long plate has 1.8 ohm,
the 10 short plate 0.8 ohm,
the mystery tube 'wins' at 2.8 ohm.
The VT25 and 10 all have 7.5 Volt heaters.
Pictures say it all but will give more questions:
The mystery is the black base tube on the right, compared to a 10Y/VT25
Compared to my other DHT:
The side view: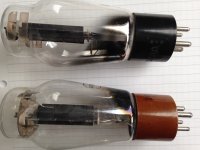 The top view, showing a round structure around the heater bars on the mystery tube on the right:
I have looked at the VT52 but these all differ a lot (too).
Any help is welcome.
albert
Last edited: