We now introduce an audio interconnect cable by using the vintage Western Electric 0.62mm diameter copper wires with waxed cloth. These classic wires from USA were produced in 1950s. On listening test of these wires, they are very suitable for audio and hifi. The structure of the interconnect cable is simple. Each 2 wires are in series for + and - and with cropper net shielding (total 4 wires for each channel). These can ensure the balance of sound and very low distortion. The RCA plugs are professional quality Yongsheng YS-366 under audio industry standard from Neutrik, China.
Special price: USD16/pair (MKI), Length: 1.25 meter
*Discontinued*
N.W.: approx. 170 gm
Can arrange registered air mail to overseas and it just costs USD5 for a pair.
My Paypal account:

twinsaudio08@yahoo.com.hk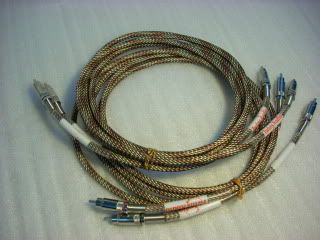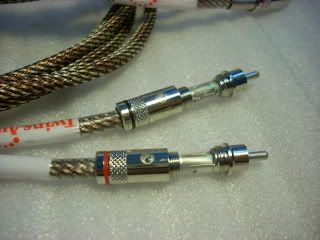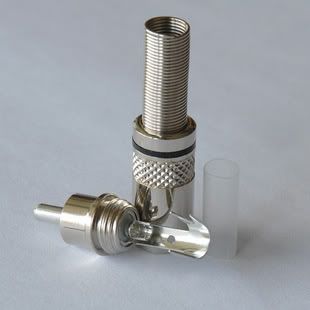 Last edited:
Very interesting. How much is shipping to USA. 1 or 2 pairs.
The surface mail charge from HK to USA:
1 pair: + USD2.0, total USD15
2 pairs: + USD3.5, total USD29.5 for 2 pairs.
Thanks.
Hi Pete,
Can pay via Paypal. My Paypal account is
twinsaudio08@yahoo.com.hk
Thanks,
Tony.
How would a buyer make payment? Paypal?
Thanks,
Pete

These can today - 2 pair. Much soon than expected. Very nicely built - thank you!

The cover you see on the photo is a woven mesh of nylon and copper shield. Very pretty. The Western Electric wire seems to be inside, but I did not take apart my pretty new cables to find out!
Hello,
The cables are available now. The total price for 2 pairs with registered air mail charge to Canada is US13x2+US9=US35. My Paypal account is
twinsaudio08@yahoo.com.hk
Thanks & Regards,
Tony.
Hi, I'll take 2 pairs... Are they available?

Thanks!
Status

This old topic is closed. If you want to reopen this topic, contact a moderator using the "Report Post" button.
Western Electric audio interconnect cable, $50/pair only