My project is a monoblock amp based on a single "ljm" L25 pre-built amplifier board. My initial aim will be to run a 150W 12in 4ohm subwoofer.
The only part I have in my possession is a 300VA 50-0-50 toriodal transformer (bought cheap off someone who was selling due to buying it by mistake!). I have an eBay capacitor board ordered and I intend to fit eight 4700uF 100V "Lelon" caps on it. I will use a tunnel type heatsink with 80mm fan.
For the PSU I was planning to use twin 35A rectifier bridges and follow the TNT audio "Diagram 4" PSU schematic: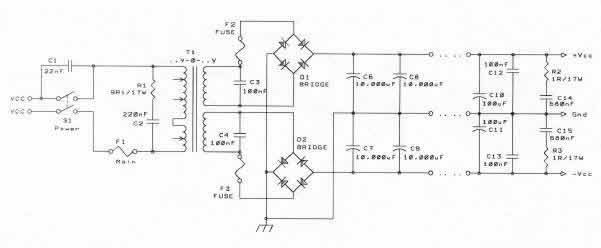 However, I have since realised that my transformer has only three output wires: a 50V a 0V and a 50V but this schematic show two separate wires for the middle 0V lines.
Question - can i still use the twin-bridge PSU topography if I only have a single centre wire?
If so - do i just share the transformer's 0V wire to one AC leg of each rectifier? And the 50V lines to the other AC leg of each rectifier?
Or have I got the wrong transformer for a twin-bridge PSU and I
have
to use a single bridge rectifier?
A single rectifier design is not a problem, I had just read that twin rectifiers were better, but my
last amp I built
used single rectifiers per channel and it sounds fine!
thanks for any advice