I was about to make the famous
Rod Elliott's project 97
to drive a TDA7379 (that I'm yet to do) when I remembered I made a headphones amplifier years ago (it was never used apart from me checking it worked) by joining 2 different schematics for different uses, so I thought: could I turn that one into a preamplifier? What should I modify?
1-Do you think changing the output components values into the ones that P97 have is enough (6r8 to 100r, 220uF to 10uF and 10k to 100k)?
2-Should I remove that 1uF between the inverting input opamp and the Baxandall tone?
3-What about input components, should I modify those?
4-The headphones amplifier was made to use a single 9v PS, do you think it's possible to modify it to use a dual supply? Or it isn't necessary (I think it isn't)?
Or should I leave it as it is?
Or for some other reason it isn't suitable?
Or should I just make the P97 and stop bothering!?
Here are the schematics:
The weird headphones amp: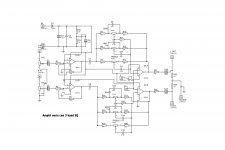 The P97 just in case:
The TDA7379 shcematic from the datasheet (don't know yet what to modify ) :
Last edited: