Planet 10 full range, about 10 years old, mint, have about 80 hours on the drivers. Drivers have the "Enabled" treatment. Extremely smooth and high-resolution treble, decent bass. I ran them with HSU 10" sub. $400.
I think they are cherrywood, will post pics or send pics to you. I think they were built by Dave. I live on Vashon Island, WA.
The speakers were about $600 10 years ago. I am also selling the Manley Shrimp preamp and a Bella Extreme 3205 tube amp with 4 EL-34s and quad of
EH KT-88's, and matched quad of Sovtek 6550's. Selling due to a nasty case of tinnitus that is just getting worse.
Sorry to hear about the tinnitus and good luck with sale. Clean living (no alcohol or caffeine, maintaining healthy weight and activity levels) can help but I'm sure you know that already (but it gets neglected- docs will often punt on lifestyle change recommendations as they don't want to argue with food/chem addicted patients).

I'm sorry to hear from that, too. In the 1990ies I suffered two acute hearing losses, first in the left, then in the right ear, followed by sensitivity losses of 60 to 80 dB @ just 8 kHz, and massive tinnitus. Now I'm a hearing aid junkie, what helps somewhat.
Sad but true: There ain't no cure, this is irreversible, due to died off hair cells
.
Best regards!

Terry,
You are going to have to remind me which exact speakers you got.
I do remember you back off on the ferry with a pair of speakers under your arms (and the picture of you with the big fish). Terry walked on to the ferry from Washington, we picked him up, brought him to the mountain, he listened, he liked.
Cherry veneered baltic birch ply. I'm gonna say the dMar-Ken73 pictured below (these aren't trapezoids but the only time appropriate picture i found, i'll keep looking). Original cost was $650 USD and that is a firesale price (a bespoke order would need at least twice that). Have well matched Alpair7.3eN (worth $290 USD new by themselves). Copper i think. These are an incredible bargain.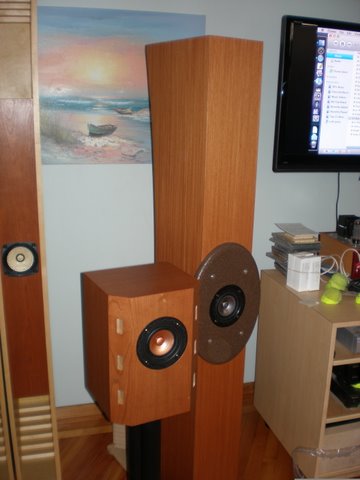 dave

Selling due to a nasty case of tinnitus that is just getting worse.
Sorry to hear that, but I don't understand the logic, you can't listen to music anymore?
I have bundled the speakers with the Response Audio 3205 Bella Extreme tube amp, a nice Manley Shrimp preamp, and tossed in the AH! Tjoeb CD player. Still working on figgering out a price for the package. The amp is very heavy and not transportable on the foot ferry! Have not put it on Craigslist yet. Might eventually get the electronics up on ebay, if the speakers go by themselves. They are pristine, about 80-100 hours on them. Will entertain offers.....the amp is running matched quad KT-88's or EL-34, Sovtek and EH.