Hello,
Got a new marantz sitting on my table but the main amp board is in pretty bad state, it's obvious one or more failed attempts to fix it have been made, a lot of tracks are missing and were poorly repaired, some resistors had been replaced but soldered in series in stead of both connecting to earth, some transistors only had one or two legs soldered to the board and 4 of the 8 power transistors that had bee replaced with BD911/912 pairs are shorted (one entire channel). The pre drivers and drivers have alson been replaced with MJE15031/15030 for the drivers and MJE 340/350 for the pre-drivers (those are fine but are they good replacements here ?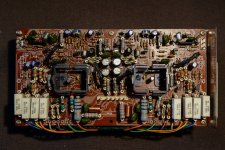 My actual question is what would be the best substitutes to the original 2SB618/2SD588 power transistors ?
There also are some MV-1 that seem a little dodgy, any way to replace those with common diodes ?