Dear guys,
I've just built a nice phono preamp, designed by Giorgio Pozzoli for TNT-Audio. Here's the English page, with description and schematics:
inDiscreet Phono Pre-amplifier [English]
I did the first listening test and I was being surprised by its good sound, but all of a sudden a prominent hum appeared. First thing I did was to check the power supply, which must provide a +27V and a -9V rail.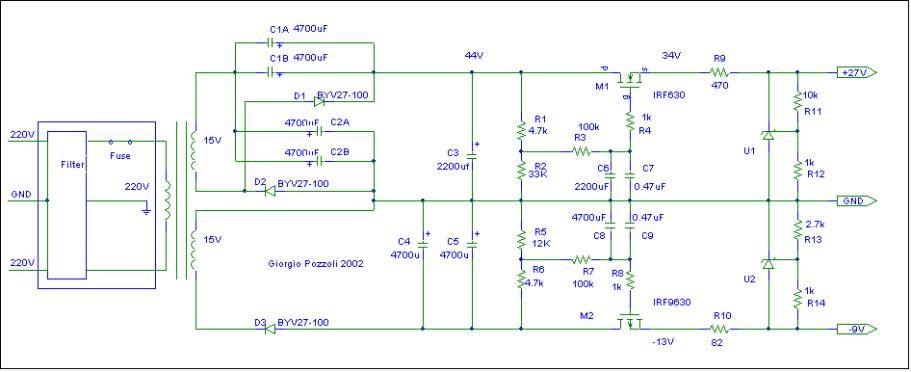 (note that U1 and U2 are TL431)
I read a good -9.1V, and a horrible +33V. I checked the reference voltage across the R12 resistor, which should have been 2,5V (reference to the TL431), and it was 0 V. On the other rail, there was the correct value of 2,5V, and in fact that rail, as already stated, was doing right.
I thought the TL431 in the faulty rail was probably defective, replaced it and followed the power-up process with a multimeter. I noticed that, despite the fact that it should have taken about 40 minutes to reach the nominal voltage, in less than circa 10 minutes I was already at 27V. The reference voltage across the resistor ramped proportionally, reaching about 2,5V at 27V rail. At past 27V rail, the reference dropped from 2,5-2,6V to zero (!). A few seconds later we were at 28.5V and going, still the reference across R12 dead to zero, and I quit the test.
I tried a couple TL431's with the same result.
I'd really appreciate some help in identifying a culprit, here...
Thank you in advance, have a nice Sunday!
Giacom