Using the BA-3 gain stage ("Front-end") as a line stage preamp. A mini build guide.
PCB -
P-BAGSN-1V20 - Burning Amplifier Gain Stage for BA-3 (Requires bias boards and output stage; Makes 2 channels; Rev 2.0) - Circuit Boards
BA-3 as preamp thread -
http://www.diyaudio.com/forums/pass-labs/234641-ba-3-preamp.html
A club in Minnesota that used this preamp as their club-wide reference!
https://sites.google.com/site/audiosocietyofminnesota/Home/diy-projects/pass-ba-3-preamplifier
The BA-3 front end is able to act as a wonderful preamp, with plenty of gain that is changeable with just a few resistors.
You will need a power supply, selector/attenuator, and chassis.
The chassis used in this build is the Galaxy 388 from the diyAudio store.
Galaxy 388 (3mm Front) - Compact with Quasi Heatsinks - Chassis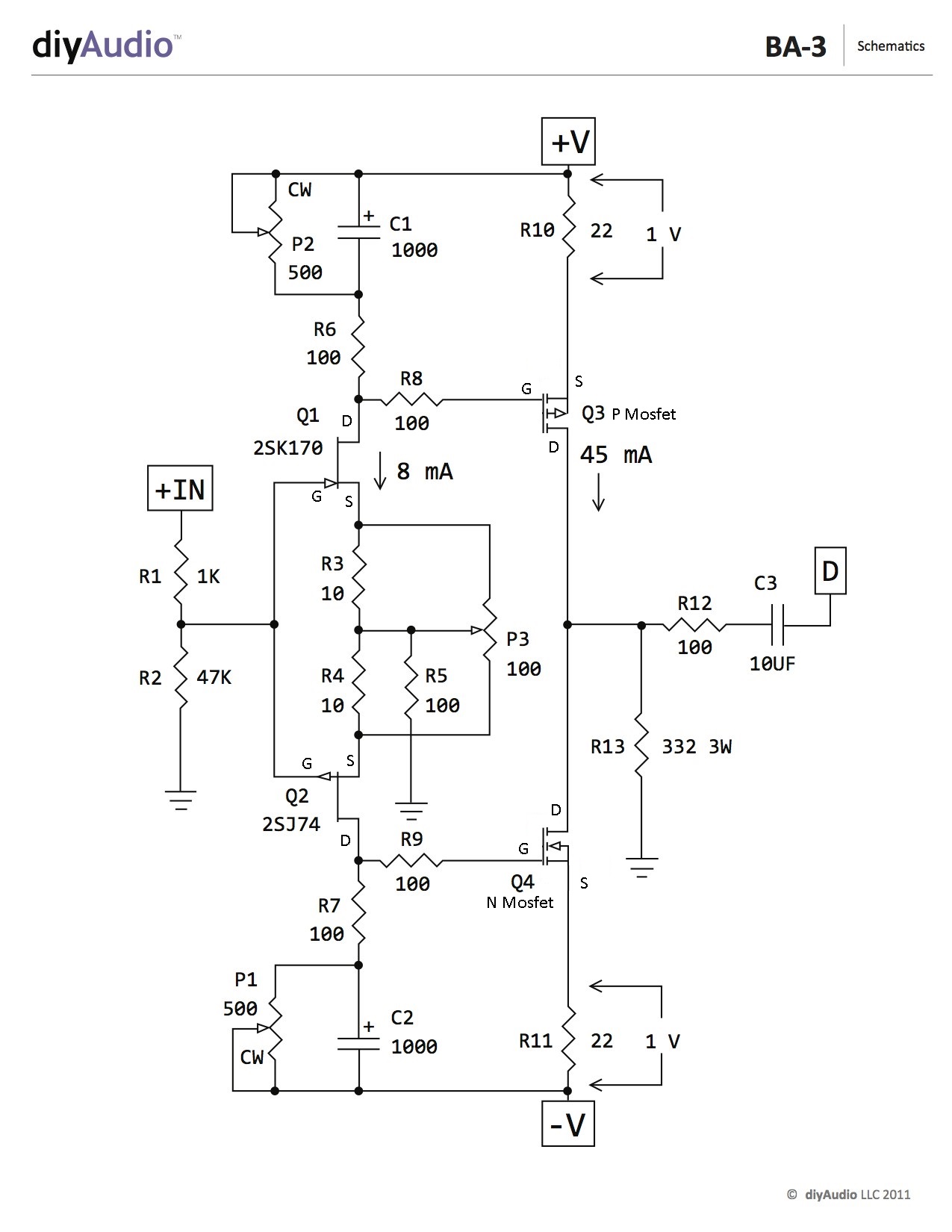 Schematic of signal circuit.
Any project needs to start with a good PSU - this is an Antek 20+20V shielded transformer, and 317/337 linear regulator PSU from Tubecad.com. (Model PS-12) Of course you could use the Super Regulator V2.2 from the diyAudio store.
Super Regulator V2.2 - Power Supplies and Accessories - Circuit Boards
Look to the support thread to see the changes for 24V operation. (I didn't use the Super Reg as that particular PCB wasn't available when I ordered all my stuff…)
The back panel is very straightforward, IEC, and RCA jacks.
The inside of the front panel shows the three-input selector switch (Tubecad.com Select-2) the stepped attenuator (This is a 50K Goldpoint) and the AC switch (Tubecad.com AC switch)
Transformer wiring shown here - IEC (which holds the fuse) to the AC switch, then to the transformer primary. Transformer secondary to the PSU board. (configured as a center-tap) The purple shield lead connects to the same point as AC mains safety earth.
I used small coax cable for signal wiring. (actually stripped out of a long S-video cable) Each ground and signal is switched. Another very good choice for signal wiring is twisted pair from a cat-5 cable.
Switch wiring.
At this point the input wiring, selector switch, attenuator, AC, transformer and PSU input are all complete.
PSU output wiring.
Also (not shown) I took a LED and resistor from V+ to gnd to act as a power indicator.
BA-3 gain stage (Front-end) PCB. Note that there are PSU connections (V+, V-, GND) for each channel.
Also raise resistors R10 and R11 as shown, you will need to clip test lead there to set this stage's bias and DC offset.
Completed FE board.
If you connect the BA-3 power wires to the back of the PCB they will be out of the way and closer to the chassis - two birds, one stone. Also in most of these photos, R2 is not installed. I later put it in and the attenuator switching pops went away.
Again, please install R2. In this photo you can see where I attached the signal ground. The 'G' pad has the PSU ground attached from the bottom.
Completed preamp back.
Front. (The power indicator LED is not shown.)
Last edited: