This thread is to document the rebuild, measurement and analysis of a SWTPC Universal
Tiger (UT) original version amplifier.
INTRODUCTION
There are many threads on here about this amplifier with many members chiming in to write
about how their amp blew up most often with lots of smoke. I built the stereo version at a
young age and blew it up a few years later while using it on the bench to measure speakers.
I've been fascinated all these years by how violently these amps self destruct burning the
circuit board all the way through and melting capacitors. Here's a picture of the typical damage:
Schematic:
https://www.diyaudio.com/forums/att...096758143-universal-tiger-universal-tiger-gif
These are background threads about this amp, pictures:
Tiger Amp Madness!
General discussion:
Universal Tiger
Simulation:
Swtpc Universal Tiger Improved And Simulation
BEFORE PICTURES
This is the before picture of the amp that I'm rebuilding: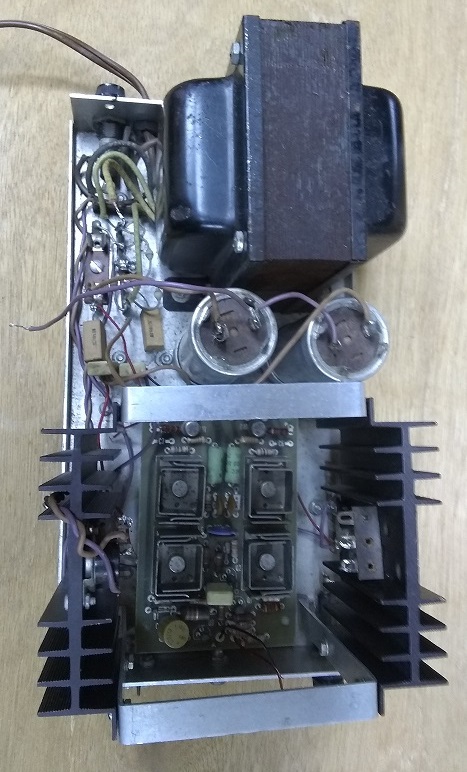 Part way into it:
https://www.diyaudio.com/forums/att...pc-universal-tiger-rebuild-analysis-utr-2-jpg
AFTER PICTURES
This was the MKII version but I want to start with the original version since they all need
fixes to cure the oscillation problem. I'm using a home made board, by Tubelab, that has
never been powered up with all new parts. I diode tested all the semis and caps and tried
to use SWTPC parts as much as possible. This is built completely stock but R12 and R14
are upsized to 2W and the rest of the 100 ohm resistors to 1W flameproof since we don't
want the amp burning up during test. Polystyrene caps C3 and C4 are repaced with
ceramic disk so that they will not melt. The feedback cap and input filter cap are on stand
offs so that they can be easily changed for experimentation:
https://www.diyaudio.com/forums/att...pc-universal-tiger-rebuild-analysis-utr-3-jpg
Backside:
https://www.diyaudio.com/forums/att...pc-universal-tiger-rebuild-analysis-utr-4-jpg
Completed amp:
Wires are long enough to lay heatsinks flat and raise PC board up for easy access to both
sides. Small C-clamps are used to stand up the PC board:
A few more pictures:
I color coded the wiring:
red B+
black B-
green ground
white Bias
yellow input/ output
https://www.diyaudio.com/forums/att...wtpc-universal-tiger-rebuild-analysis-utr-jpg
https://www.diyaudio.com/forums/att...universal-tiger-rebuild-analysis-utr-left-jpg
INITIAL TEST
I brought the amp up on a lab power supply, initially at +/- 28V current limited to 150 mA, it worked
fine, then to the stock +/- 42V also current limited to 500 mA. There was zero bias current in the
output stage and .32V, yes that is V of output offset. I added a bias pot and it was erratic, smooth
up to about 60 mA then jumped up to 350 mA - not a good sign. Left the bias at 50 mA but it did
not help the DC offset.
There are many ways to make the amp oscillate, and turning up the bias was one, luckily having
the power supply current limited to 500mA saves the amp from self destruction and allows
observation on the bench. The 3-5 MHz oscillation is mostly filtered out by the output inductor -
circuit should be probed just before the inductor to see the oscillation.
Thought about this a bit and we might noticed that the feedback resistor is 2.2K but the main input
to ground is 20K. Grounded the input, also for 2.2K to ground and the offset fell to .008V, much
better and agrees with theory. The feedback impedance should be raised and the input AC coupled
in order to keep the output DC offset low.
A FEW NOTES:
1. The output inductor measured 2.3 uH and .067 ohms DCR, it would be better to
have half or less DCR.
2. Most of the 70s UT used mica insulators that I measured as 2.5 thou thickness, there
are many comments about how 1 thou is better. I've seen a repaired UT and a Tiger
.01 with Kapton insulators that measure 2 thou thick, 1 thou is better.
Keratherm products are the modern solution but since I have 1 thou Kapton I'll probably
just use that. Link to tech info:
http://www.mhw-intl.com/assets/Keratherm_Catalog.pdf
3. The MJ4502/MJ802 TO3 devices from the 70s and perhaps 80s were of all aluminum
construction. There are many reports of these TO-3 devices failing due to the aluminum's
large physical coefficient of thermal expansion/contraction with temperature. The later
TO-3s that I have from the 1990s are steel or perhaps copper base coated - I'm not sure
but they are not aluminum and should be more reliable in situations where there is a lot
of thermal cycling. The original output devices have poor safe operating area (SOA)
compared to modern devices and therefore should be replaced in any Tiger that is used
at high power or into low impedance loads.
4. Simple improvement to the heat sink assembly that my brother and I noticed back in the 70s:
The stock assembly is shown here where it can be seen that the thermal sensor diode and
collector connection are made on the back side where both heat and electrical current
have to pass through the screw and nuts holding in the transistors. The screw head to
transistor, screw to nut, and nut to terminal lug are all non-gas tight connections:
https://www.diyaudio.com/forums/att...ersal-tiger-rebuild-analysis-utr-hs-stock-jpg
We concluded that moving the thermal sensor and collector terminal to under the screw
head was a much better way to conduct both heat and electrical current:
https://www.diyaudio.com/forums/att...iversal-tiger-rebuild-analysis-utr-hs-mod-jpg
I've not done this mod to this test amp but will do it with any other rebuilds that I do.
GROUNDING:
The grounding is somewhat convoluted in the Tiger amps and documentation
is provided below for others to follow along.
There are 5 terminal points that use chassis ground in the UT mono
block version, the stereo version is very similar:
1. Diode Term Ground:
This is at the bridge diode terminal strip on the mounting terminal
that grounds the transformer center tap and the speaker terminal gnd:
https://www.diyaudio.com/forums/attachment.php?attachmentid=798553&d=1575055539
2. Emitter Term Ground:
This grounds the output transistor emitters through .1uF bypass caps:
https://www.diyaudio.com/forums/attachment.php?attachmentid=798554&d=1575055539
3. Zobel Term Ground:
This grounds the Zobel:
https://www.diyaudio.com/forums/attachment.php?attachmentid=798555&d=1575055539
4. Speaker Term Ground:
This is a chassis terminal lug at the speaker output that grounds the .1uF
across the speaker output:
https://www.diyaudio.com/forums/attachment.php?attachmentid=798556&d=1575055539
5. Input Terminal Lug:
The input RCA jack is not an insulated type and the input circuit, hole A,
is grounding to this lug.
No picture
The published schematic freely uses the ground symbol without making any
distinction between chassis ground and other grounds such as the traces
on the circuit board. There are two traces on the circuit board that I'll
call input ground and driver ground. The input ground includes base bias
for the input transistor, RF filter cap (C1), and feedback network ground (C2)
and connects to hole A on the circuit board. Driver ground goes to the hole
with a ground symbol rather than a letter identifying it. There are some
errors on the schematic where, for example, one bypass cap (C7) goes to the
input ground when in reality it connects to the driver ground.
I corrected the schematic to correctly show input ground, driver ground, and
all the chassis tie points as shown below: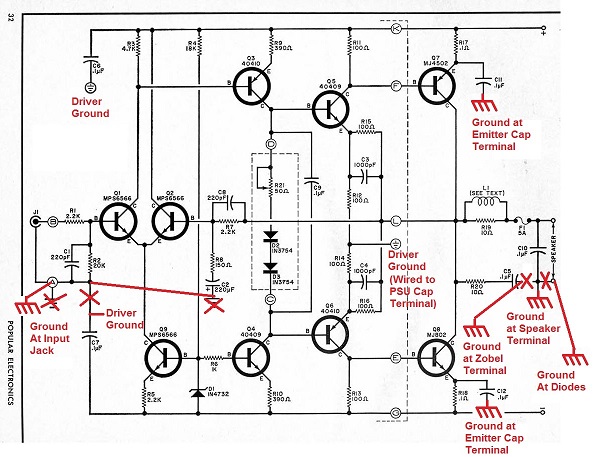 Here's the amp under test, HP lab power supply, HP function generator, Rigol Scope:
https://www.diyaudio.com/forums/att...-universal-tiger-rebuild-analysis-utm-lab-jpg
Last edited: