This is a subjective blind test, 6th in series of tests of full range drivers, but with this one concentrating on whether or not eNable treatments to a FF85WK driver are audible. In a related thread, I showed that the differences were measurable as small 1dB variations in the 1kHz to 10kHz range. I then developed a passive FAST speaker to allow the testing with a state of the art class AB MOSFET amp (
VHEX+
) with an external DAC (
UCA202
) driving the amp, a passive crossover design, and a transient perfect FAST speaker utilizing an RS225-8 woofer in a sealed cabinet. The driver under test (DUT) is mounted in a Dagger style short aperiodic (vented) TL with a trapezoidal baffle for a clear, open sound signature with minimal box coloration or diffraction effects from a rectangular baffle.
The usual warnings: please do not post your selection plainly visible for others to see as it may sway votes. If you wish to have your vote recorded for posterity, create a txt file and put your vote in there and upload as an attachment. This way, people have to purposely click on attachment if they want to be swayed by popularity.
Related threads that led to this thread:
http://www.diyaudio.com/forums/full-range/292130-ff85wk-rs225-8-passive-fast.html
http://www.diyaudio.com/forums/full-range/291855-planet-10-measured-improvements-ff85wk.html
Here is a photo of the test setup:
Here is a photo of the VHEX+ amp used:
Here is the measured frequency response and XO response of the FAST system:
Here is the measured phase:
Here is the measured distortion: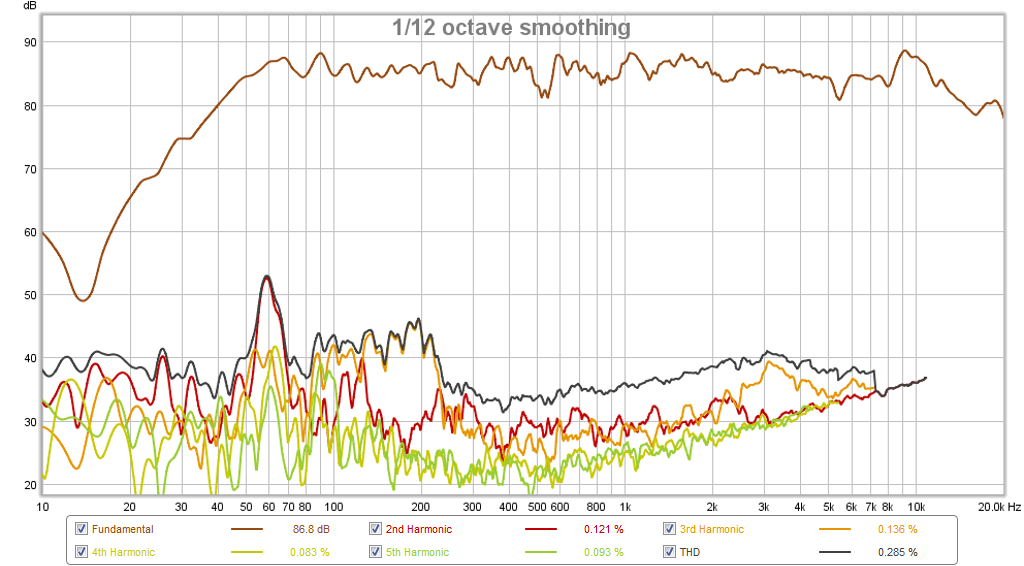 Here is the measured impulse and step response:
The crossover frequency is at 700Hz (relatively high for a FAST but was necessitated by practical limitations of a passive crossover components being of reasonable size/cost). Here is the schematic diagram for the XO used (caps C2 & C3 are of 2.2uF 250V MKP film, C1 is a 50uF 450V film in oil industrial motor run cap, and resistors R1 & R2 are 10W cement filled and R3 is a 2W thin metal film for the Zobel, inductors were all ferrite core and cobbled together from 3 separate inductors (2.50mH+1.02mH+0.56mH) and R4 is the inherent DCR of the 3 inductors in series:
Measurements made at 0.5m on axis with DUT and using UMIK-1 microphone calibrated by third party (Cross Spectrum labs) and speaker excitation drive voltage was 2.83v (as measured with sine wave at several fixed frequencies).
Here is the detailed measurement of the differences between the drivers when viewed at 1dB/div vertical and with 6-cycle frequency dependent window (FDW) gating applied to remove external room contributions:
A more conventional view of the differences without gating looks like this (1/12th octave smoothing):
Even farther back, it looks like this (high pass only on XO):
For reference, here is the Fostex factory frequency response for FF85WK:
[IMGDEAD]https://www.madisoundspeakerstore.com/store/images/Image/FF85WK-curve.png[/IMGDEAD]
Attached below are the level-matched reference sound clips used for the test recordings which were all made at the same time as the above measurements in one session with the mic and speaker untouched and only drivers swapped out.
The test will be to choose the set of sound clips (A or B) which you think sounds most like the unknown driver under test (X).
You will not know the identity of X a priori, the test is not which sounds better, but which one sounds the same. Although since you have the reference clips, you are free to make up your own mind which you think sounds closer to the source.
As usual, to circumvent the max file size limit, 320kbps MP3's are named with .asc extension. Change to .MP3 to listen.
Thanks for playing and have fun.
I will ask a moderator to make this into a poll with choices A or B and leave poll open for about 2 weeks - let's say by 12:00 GMT on June 19, 2016.
Finally, I would like to acknowledge Byrtt's generosity with help in buying some of the drivers under test and for designing the passive XO for this speaker. Although many have assisted in providing drivers in earlier tests, without Byrtt, none of these Subjective Blind Test threads would have been possible. Thank you, Byrtt!
Edit: Instructions on how to rename files on a Mac
From Peter Brorsson:
On my Mac, one-finger tap on touchpad, wait two seconds tap again. Erase asc and type mp3

Left corner click touchpad and same procedure as above works also. But it depends how track pad is configured....

Maybe there is a quicker way, but this is how I solved it.

Peter
From Vzaichenko:
Also, tapping the track pad with 2 fingers with the pointer on particular file brings up a context menu.
Then "Rename", etc.
Results of Poll - the big reveal here:
http://www.diyaudio.com/forums/full...t-enabled-ff85wk-round-6-a-8.html#post4752205
Last edited: