My latest breadboard experiment (triode wired, Class A1, 6CA7 PP) is exhibiting some strange distortion at high frequencies (the onset starts around 20-30kHz)The rising slopes of the sine wave have a wiggle, but the falling slopes look ok. Kind of looks like this.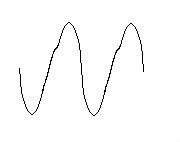 The distortion increases with amplitude and also increases as frequency goes higher. Adding feedback makes the onset of the distortion occur sooner. The compensation scheme or values used when the loop is closed seem to offer little or no change in this regard.
Any ideas what is going on here? Some kind of OPT limitation? I've never seen this on my previous builds.