I have several sets of Power STK 39X-XXX Video Convergence IC's sourced from various Projection CRT HDTV's and have the heatsinks that go with them, and would like to build some High-Quality amplifiers with them, but would like to run this by our more electronically-savvy members here.........
These All are Triple Power op-amps (3 op-amps in one STK Package) and have your usual +/- and OUT pins for each one. All these chips have really high bandwidth specifications for video use, so I figure they would be great for HiFi Audio Use.
STK 392-110 - Class B (I'm sure class B is no issue in some apps)
STK 392-120 - Class A/B
STK 392-560 - Class A/B
STK 392-040 - Class A/B
STK 394-250 - Class A/B
What about using these chips as either Power Amplifier front-ends for driving discrete output stages, or using them to drive speakers directly from their outputs? Or even as overbuilt headphone amplifiers? Any circuit ideas or uses from the veterans here?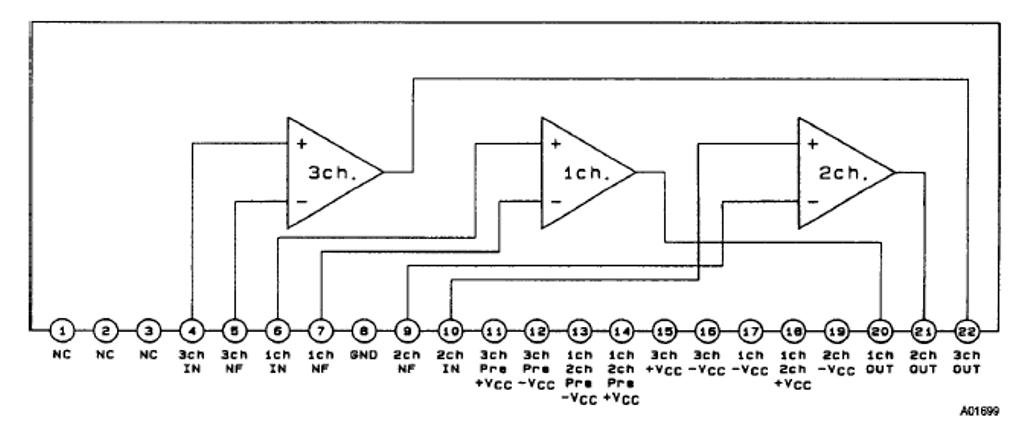 Interesting. A quick scan of the data sheets (for the Class b and the class ab) both show a darlington output stage with zero bias. Bases of the outputs connected together.

Suitability for high quality audio based on that at face value... zero I'm afraid.
Check those datasheets again.........
The ones I have on my HDD show all of the chips have either a VBE multiplier or two biasing diodes for the output stages. Only exception being the 392-110 having zero bias output stage, and class "B" operation is even mentioned in the datasheet for the 110 only.
The 110 IMO being class B, could possibly be used just as a VAS stage to drive an output stage.
The 250, 560, and 040 have output currents of 3,5, and 7A which look like they should be able to drive a speaker.
I like the idea of using a several Mhz capable op-amp to drive a large parallel output stage, or for other audio uses.
Some have, some haven't. I looked at the 120 variant as well as the 110. That shows class b as shown here.

You could power one of those up in minutes into a dummy load and do a quick scope check on things like squarewave response and bandwidth.
You are 100% correct, I double checked the datasheets. I now see both the 110 & 120 are class B. All the others are class A/B though. The class B chips could still be used as a VAS stage for a power A/B output stage, using the chip to source/sink the bias current to keep the chip biased on (class A).
I'm about to hook up a couple different ones and see how they play. I like the idea of using big power op-amps because they are already frequency stablized, and I have less to worry about with things like DC offset, setting bias current, and oscillation, etc, compared to building a raw discrete amp.
Due to my workshop being burnt down, and living/financial situation, I have no time to fiddle with tweaking component values, and working out bugs, just to make an amp, if I can just use a chip that would make things easier.
I have SIX of the STK 394-250, two of the 392-560 and two 392-040, and I'm saving these to possibly make a multichannel HiFi amp if these chips end up being ideal. Would be lots easier than making multichannel discrete and I still could drive some output transistors with them if I need more power.
Status

This old topic is closed. If you want to reopen this topic, contact a moderator using the "Report Post" button.
STK Video Power OP-AMPS (Convergence) IC's for HiFi AUDIO Use