I am almost ready to hook up my F5 PS to 120V (US).

My transformer has a single primary. I've looked at the Pass PSU schematic which shows wiring for a dual primary transformer. It's got me confused on to how to hook up my single primary transformer.

Is the attached diagram the appropriate way? My transformer has on black primary (I assume it is LIVE) and one white primary (I assume it's N).

Let me know what you think. Thanks.
that left pic is ok , even if I'm slightly confused with two black elipses ; if they're thermistors , you need just one
Just need a thermistor on the LIVE wire to the transformer? Not the Neutral wire?

The primary circuit is just a series circuit and so the thermistor could go in either side electrically. Conventionally it would go in the live side although the neutral side offers the dubious advantage of the thermistor not being "live" when connected to a correctly polarised mains outlet.
The

ONLY

dumb questions are the ones not asked.
That's good to know. Because I haven't even started asking about wiring the rectifiers yet.
That's good to know. Because I haven't even started asking about wiring the rectifiers yet.
This might help -
Click the images to make them the proper size, and the text more readable.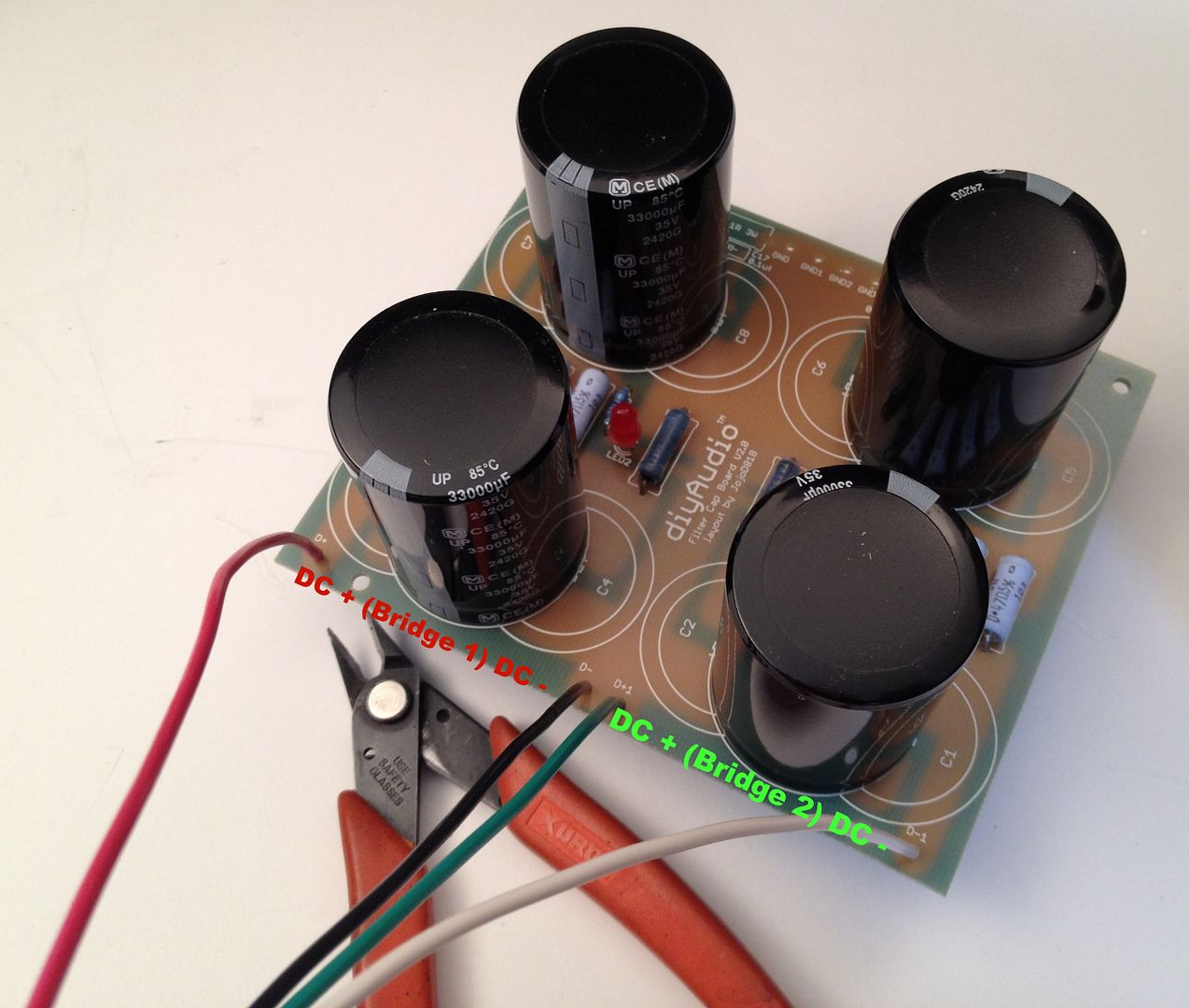 This shows the INPUT edge (from the diode bridges)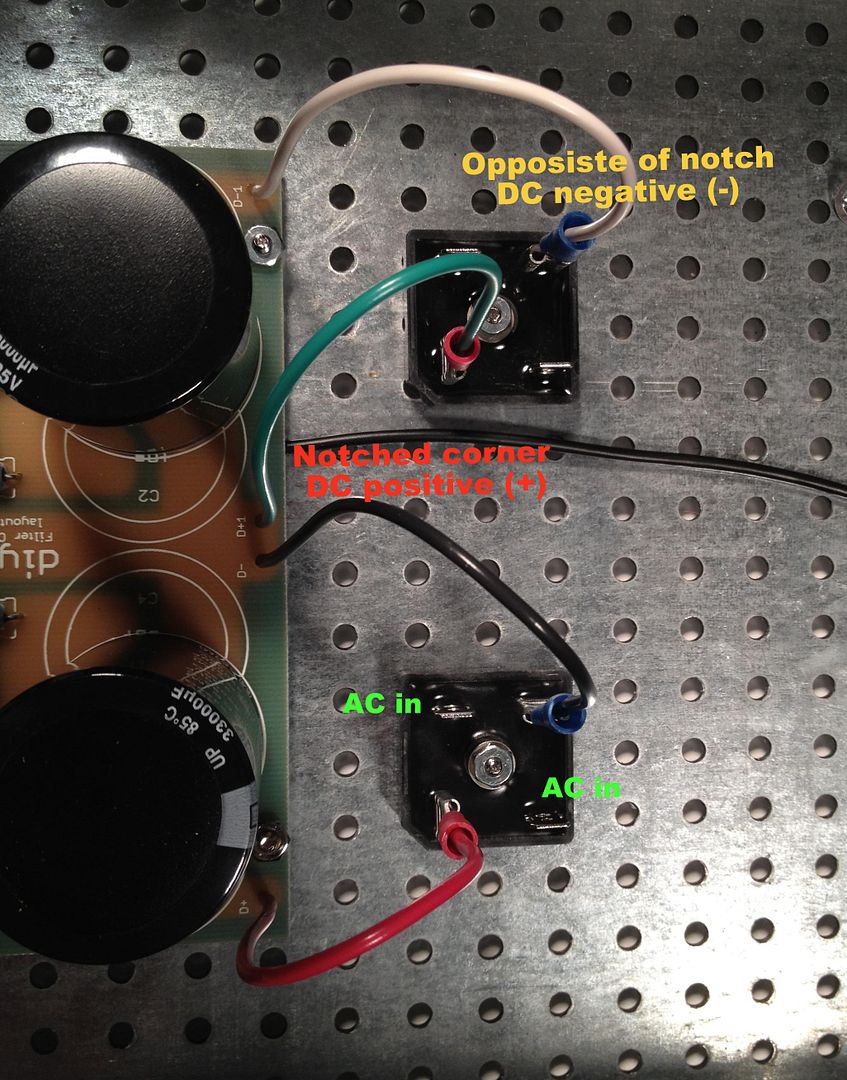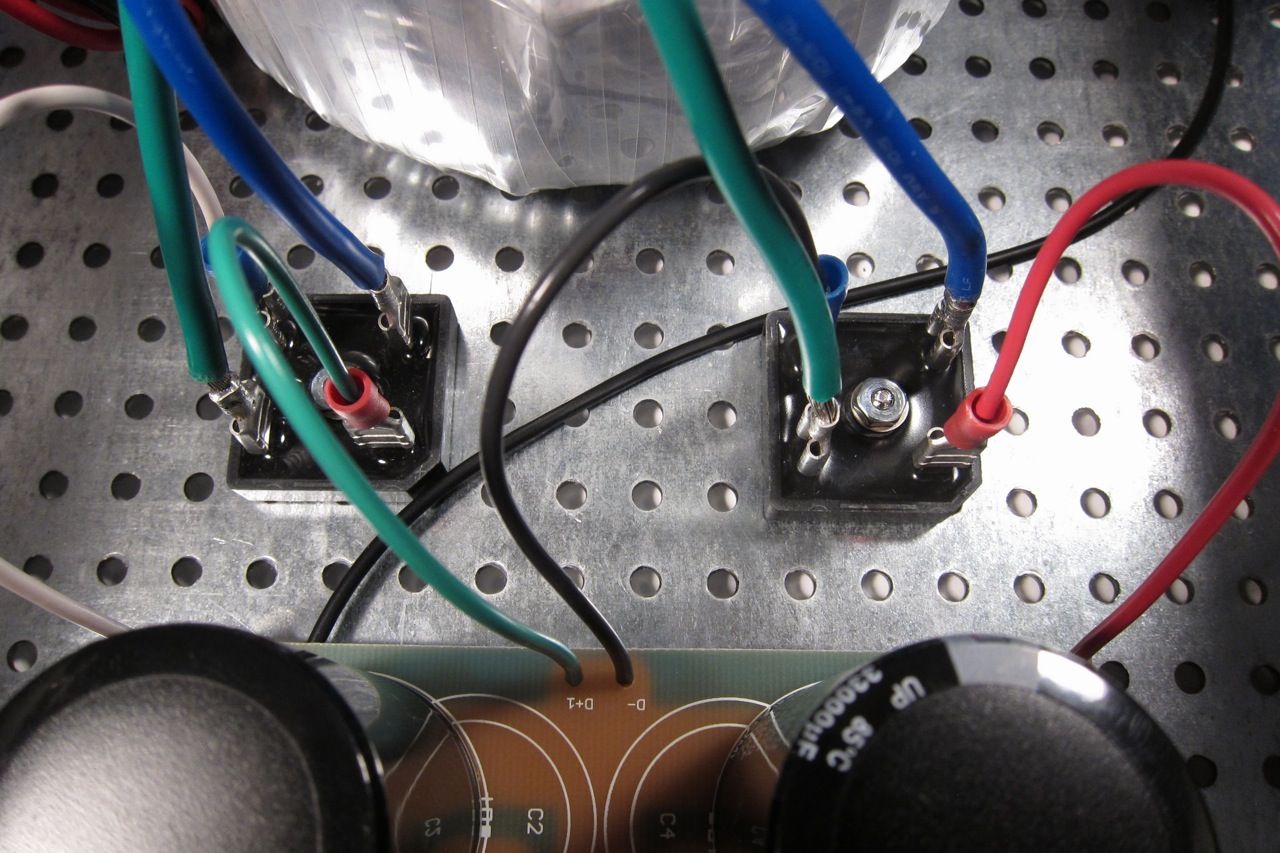 Here you can see the bridges with the wires attached from the transformer secondary. Remember that the green attached to a bridge must have continuity with the blue attached to the same bridge. (As it's the 2 ends of the same piece of wire)
Thanks 6l6. I get it. So the orientation of the secondary ac wires doesnt matter? They can be swapped? Just make sure the notched corner is V+ out and opposite of the notched corner in V- out right?

And to find the matching secondary pairs just test w/a meter I suppose.

Thanks again.
Hikari - Yes, the AC on the bridges doesn't matter, but if you can keep them in the same orientation, it at least looks better.
Yes, Notched corner (and it also has the spade lug twisted 90deg to the rest) is the DC positive. Opposite that is the DC negative, and the remainders are the AC in.
And yes, meter the secondary wires, (ohm or continuity) to determine which are the pairs.
Carry on and build amps!
Status

This old topic is closed. If you want to reopen this topic, contact a moderator using the "Report Post" button.
Single Primary Transformer wiring help