Hi all, really glad to be here. This is one of my first threads so it'll be kinda introductory so bear with me for a long one. Okay, here goes:
After a nice couple of months of deliberation and looking around I knew I wanted to go single ended. And oh boy did I get hooked. I plunged into it this spring with a Chinese DIY kit build like this:
Not a bad build, and quite rewarding when it comes to upgrades. I went through all of the solid state components several times until I got where I wanted with those.
But things only started getting crazy when I added a Triode/UL switch and a bias rotary switch with a resistor network in parallel with the main cathode resistors. I also got some pairs of JJs EL34s and a pair of NOS Sovtek 6L6GCs in the meantime, plus upgraded the rectifier tube with a 5C3S black plate SVETLANA - this added some really subtle warmth to the lower end of the spectrum.
After several investigations regarding tube biasing it was pretty clear to me that Class A cathode biased operation allows for much more hot biased fun than many tend to dare doing. After driving the JJ EL34s to some 90-95% dissipation it is where the tube character really slammed me like never before. That holographic juice of the mid to mid-high range started oozing at me from my klipsch RP160Ms like nothing I've ever heard before - I just couldn't beleive my ears
! The tubes woke UP! I was totally hooked! Also, it turns out that the PSVANE EL34-Bs sound much better and thicker and fuller than the JJs - I think they are made by shuguang who now does OEM work for marshall btw. Quite a surprise the PSVANE!
...running mostly in triode mode at this point. I cannot shake the sweetness of it!
As for Sovtek 6L6GC it is a different kind of a beast. Those are NOS I got off of ebay for a ridiculous price of 20EUR a pair. I know they like higher impedance on the plates than the EL34 (the outputs being at 3.5K) but that didn't seem to be an issue, especially when triode strapped. However at a first listen I thought they were worthless! They sounded very thin and glassy and broke up quite quickly. I never dreamed about how they were gonna creep onto my ears during the next 100hours of burn in. There is something incredibly sweet to the vocals and wind instruments on those 6L6s, the highs are just so juicy, so feathery and soft to the ear yet so nicely defined at the same time.
In the meantime another pair arrived: the soviet 6P3S-E from REFLEKTOR, those are long life military spec 6L6GT equivalents with gold plated electrodes. Enjoying another pair of tubes for quite a while made me realize there is something really special and unfathomable about triode strapped tetrodes that I wanted to do more. They made me think of them venerable 6V6s and this is when I also learned about the 6P1P-EVs which are considered to be a similar tetrode design in a smaller package. There's still some lots of those tubes online as they didn't get that popular because of goofy pinouts, but those 6P1Ps are just pure magic from what I've heard. Any1 from the 6p1p club still around ?
So, after alot of fun with this amp I started to think of it's limitations and I was mostly worried about the quality of the China made outputs. This is when I stumbled upon a pair of some old Philips WE15180 with a pair of power trannies included as well.
After alot of digging I found some pplz discussing a project around those babies on a dutch forum - Whoever you ghuyz are, thanks!
With the help of some auto translation I kinda figured it out and decided to snatch them!
This is what the outputs look like:
But what are those OTs, and what is that weirdooh feedback network soldered between those terminals anyway !??
However I have the schematic from that Dutch forum and it's really exciting to have the trannies! Just can't wait to start working around them.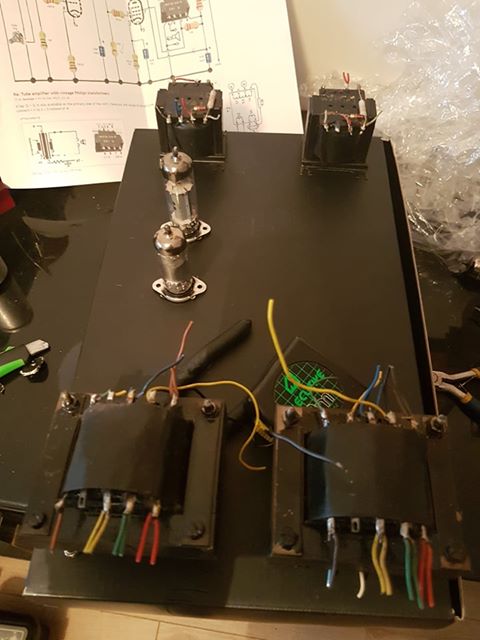 Here's the schematic:
I really appreciate simple designs and I strongly share the belief that the simpler you go the less things can go wrong, hence better linearity, etc. A good example is how phase splitting in badly build PP configs can mess things up, or the fact that it sounds too clean because of inherent noise and third order harmonics cancellation (which we find desirable in SET configurations).
I am not a fan of that feedback going to the preamp plate at all. I have read not long ago that SET configurations do not benefit from any kind of feedback whatsoever.
Those trannies are specced for EL84 and the such but wanting something more unique I took the bait and ordered a lot of 6P1Ps from off of ebay + some russain 6N2Ps for the preamp (they seem like an excellent 12AX7 equivalent with a slighltly lower mu of 80 or 84).
Yet, being impatient to work with those things I actually found some tubes on the bottom of a box with markings completely erased on them. After some digging I found that I have two noval bases that came with the rectifier tubes for the trannies, a single TUNGSRAM EL84 that looks very very burned in lol, and a pair of also very burned in Ei ECH81s heptodes (HEP--wait whatt !?).
Yep, here it is LOL:
I've seen some ppl online mess with those to build some funky preamp circuits and sure it sounds fun. But, I knew what I wanted. I just decided to ignore the HEPTOFUNK mess and use triode part of the tube and built the circuit around it's specs. I also triode strapped the one EL84 I've had, built a pretty straightforward solid state power supply, wired everything up with an older 4ohm speaker first and I was purely blown away with the highs and vocals! I cannot beleive this. This little mess of an amp sounds even juicier and more open in MONO than my SET EL34 one!! Is it possible that this is all due to the output trannies !? Wutt is goinn onnn ??
After some testing I decided to wire this less than 3W output thingy to my 93dB 8ohm 100W power handling klipsches in parallel!! Now I'm ever more confused! I was always aware of the importance and of the beauty of the first watt, but this ? I never expected this!!! Also, the solid state rectifier seems to be very nice with a SET config as it helps tighten the low end just a notch up.
Here is what the whole mess looks like: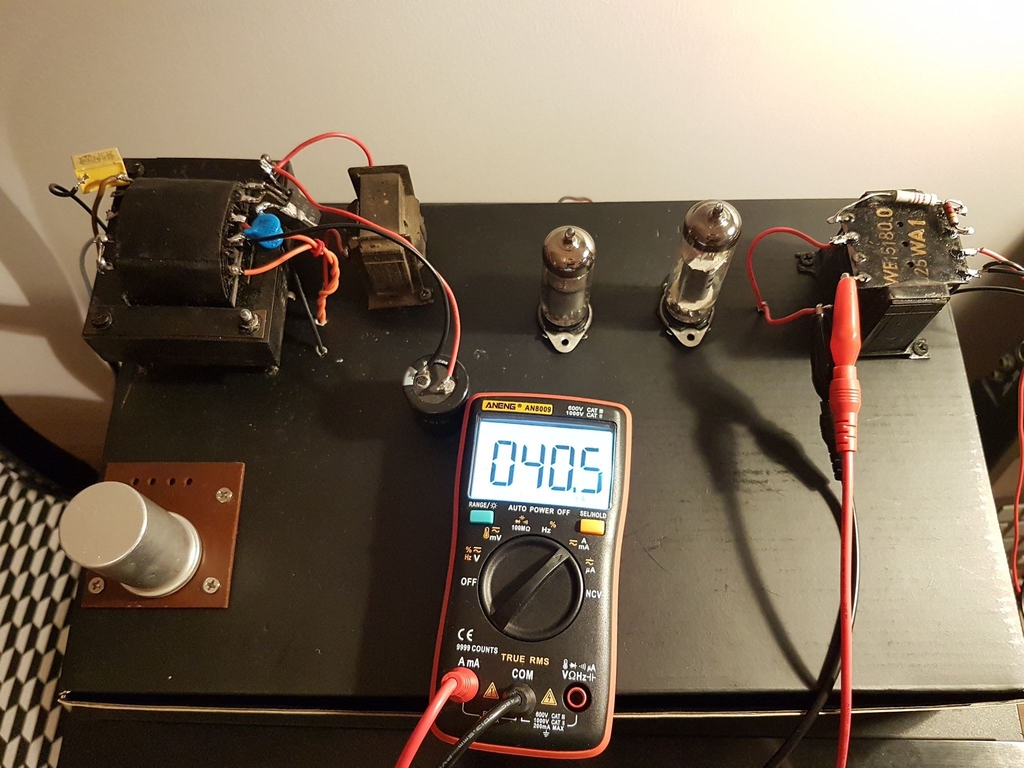 Yes! That is a cardboard box
! But I can't stop listening to it! In mixed mono yes! Just cannot believe it!
What do you think of the power section pplz ? Any opinion on those Y caps for the zener bridge operational coupling ? I used a bridge on two 250V taps there and when capacitor coupling the negative rectfier lead to the tranny ground the DC voltages stabilize at 250, when the bridge is grounded directly however the voltages add up to about 370V. I'm wondering if I should have probably done half wave rectification there, but I did get a stable 250 for the B+ this way.
You gotta wonder where do I wanna further go with this. For now I'm missing some good noval bases for the tubes, waiting for the venerable 6p1ps and those preamp 6n2p to arrive. Cuz if this mess can sound this good with a high current noisy 20mu grid galore heptodomess of an ECH81 I cannot wait to hear the 6n2ps in the preamp section with a properly matched pair of 6p1ps in stereo lol !!
I also have two more 250V/6.3V power trannies and I could probably build a couple more of those amps if I like those tubes.
I also tried the UL wiring but quickly gave up on it. The power gain in this specific configuration is tremendous! However the voicing is very glassy and harsh and edgy on the highs, it is of no interest to a triode addict.
And thus my dreams of vintage output trannies came to realization. Is it really possible that OTs can affect the sound to such extent that everything sounds better even with inferior tubes?? But also, can anyone shed some more light on those specific models ? And what is that weird feedback tap design with all the resistors between the windings ??
What really bothers me the most with building a tube amp is the chassis. I don't have much working space and tools and nerves for metalworking right now. I am thinking of doing a 3D printed one as I have some history in CAD work, this could be real fun and allow for some unique amp designs but I'd need to get a printer and find room for it.
Anyone knows where to source some easily customizable chassis parts in Europe ?
Wauhh. So much for now. Hope I've sparked some fresh new interest in the amp building arena
.
Best.
oprtr
Last edited: