Simple discrete shunt bipolar supply for OPA4134
I am interested in a simple but high quality +/-12V or +/-15V power supply to power an instrumentation amplifier in front of a LM3886.
The instrumentation amplifier will probably consist of a single OPA4134.
Initially I was going for a LM317 based regulated supply, however after reading this article:
Simple Voltage Regulators Part 1: Noise - [English]
I became interested in this circuit: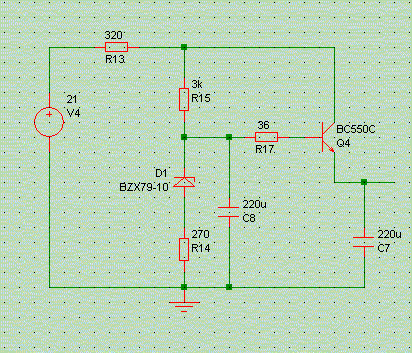 The low parts count, cheap components, and better than LM317 performance, make it a very attractive proposition.
This is also interesting:
But I am not sure about the BC560B transistor as I cannot source it easily. Would the BC560C work?
I am not very experienced in PS design so I have the following questions:
0) How does one calculate power/current requirements for the OPA4134?
1) Would either circuits have enough power to feed the OPA4134?
2) I believe either circuits generate 12v which should be enough for the OPA4134?
3) How do I turn the above circuits into a bipolar supply?
4) Input voltage for the PS is probably around +/-27V after the bridge rectifier as I am looking to use a centre-tapped 20V-0-20V transformer. Would the above circuits work with a +/-27V voltage?
Regards
Evan
Last edited: