I'm designing a center console for my early bronco and wanted to incorporate a sub. I decided on a bandpass as a way to protect the sub from sticks, branches, elbows, etc, but am starting to question if I have enough room.
I was planning to keep the width to 8", however, while working on my cad design, i've found that I can not keep the 8". The sub has a mounting depth 5 13/16, so to keep the end of the sub off the wood, I'm making that 6". Using 3/4 MDF, I've only got .5" between the sub mounting surface and the opposing wall. Problem is the xmax of the sub is ~.55". So I am pushing the opposing wall out .5", as I am constrained on the mounting surface. This will make the whole console 8.5", but it will give me 1" gap from the sub mounting surface to the opposing wall, .45" between xmax and the opposing wall.
The sub is an
Infinity Kappa Perfect 10.1
The question is, is 1" enough? There will be more to the console that the port will expand into.
This picture may help understand what I mean.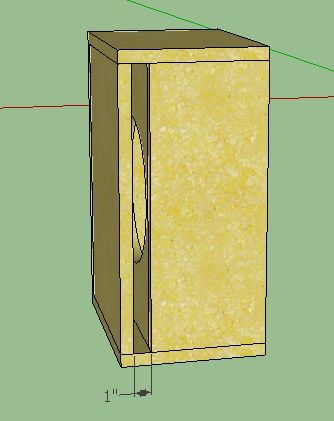 Last edited: