I installed SB Acoustics 8" Fullrange(SB20FRPC30-8) in TQWT.
Well-extended bass.
Natural mid and high range with little grating.
High quality throughout the all range, and the performance is above the price.
Thank you everyone for your comments.
Published frequency response is for the IEC baffle.
It seems that the open baffle will also perform well.
Sorry I don't know what the BSC is, I'm not using anything extra.
That sounds terrific and contender for best recorded loudspeaker sound at Youtube. I'm impressed. (right now I'm on cheap Oneodio cans Peace-Eq-ed to the Harmon target - will try later with Hifiman HE400x4 and T50RP-w. Brainwavz pads) that''s a wonderful recording and very joyful sound with the drums -drumstick/cymbal/piano nuances.

btw I could use some drum tracks (jazz preferably) to evaluate some of my Karlsonish toys - would you have recommendations ?
I don't Know a best drum track.
Introducing My Favorite 4 CDs.
I used Helge Lien this time.
SPIRAL CIRCLE / HELGE LIEN TRIO (DIW-627)
Good Vibes-Jazz at the Pawnshop3 / ARNE DOMNERUS GROUP (PRCD9058)
The Best of Fourplay (EVSA765M)
Live at The Village Gate / CLARK TERRY (CHESKY JD49)
Oh, Baffle Step Correction Circuit.
I have never used it.
BG20 has a soft sound, an average texture, and a weak treble. Adding a magnet will increase the sharpness and texture.
SB20FRPC30-8 is sharp enough not to be offensive to the ears, and has a wide range with a lot of information.
It doesn't change much even if a magnet is added.
It is strange that magnets of the same size are used.
Thank you for the report.

I have been interested in this driver since they announced it a long while back. Production was stopped due to manufacturing issues. Hopefully those are now resolved, and the world will soon have access to this driver. Looks like it will be a hit for SBA.
After completing original Coral specified horncabinets for Coral-Beta-8 drivers, I had to realize, that these great old drivers had expired their lifetime. Sound was great for the most part, especially a very open high frequency, and the cabinets does a fine job for the bass. But at certain frequencies clear distortion was experienced, due to the drivers old age.
So looking for a new fullrange driver, I came upon the DIY project above, and decided to give the SB Acoustics SB20FRPC30-8 a try.
I am do happy with this new driver. Side by side the Beta-8 it does a pretty good job. Again the bass range is well served by the horn cabinet.
Can only recommend this new SB Acoustics driver - not expensive at all.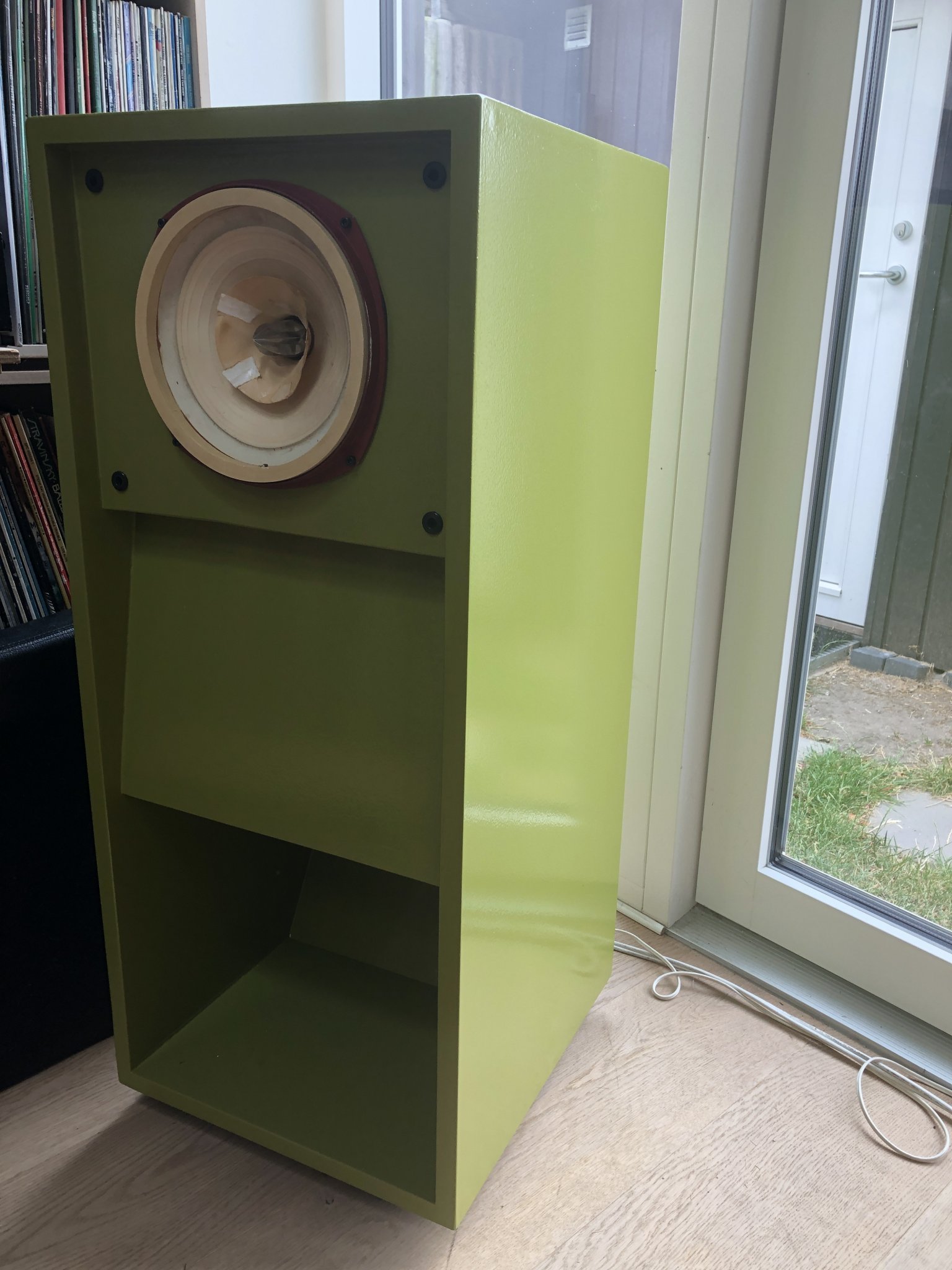 Dear nandappe.

Thank you for your kind reply. As you inspired me to try the SB20FRPC30-8, I just wanted to share my experience.

Yes, you are probably fully correct in regards to the 40+ year old Beta8 drivers. I listened to them for some time, as I got the cabinets completed.
And the sound was very crisp nuanced throughout most of the spectrum. The driver is sensitive to off-axis listening; especially for the high frequency. The bass range was clearly improved by the cabinet; and it has been capable of playing quit loudly continuously for several hours.
But as described; distortion have now been identified at specific midtone ranges.

As I was looking for a new driver; I was recommended the drivers from Tang; Tang Band W8-2145 (150€) and the W8-1808 (300€) - but both drivers are to deep for the cabinet. And far too expensive for my current budget,
Then I checked Dayton Audio PS220-8 (200€) - which seems perfect for the job; also with a very nice finish.
And finally I checked Markaudio Alpair-12P (140€) - without finding any projects or reviews.

As I have had very good experiences with drivers from SB Acoustics, I decided to give the SB20FRPC30-8 driver a try, after reading about your project above.

The SB20FRPC30-8 driver is far cheaper than the above ones. But therefore also tempting to purchase; just for experimenting.
And I must say I'm quite surprised how well it performs. Above price as you stated; I completely agree.
It can perform at very loud levels too; with out any distortion at all. The bass range is still acceptable; and the of-axis listening is much better than the Beta8.
So no complaints until now.

I should like to try with the more narrower cabinet that you have posted here. It looks very nice and quite elegant, due to the narrow front.

I very much appreciate good sound and good loudspeakers - but I don't have a professional ear - nor am I comfortable with the engineering terms to describe the sound and listening experience. Just an amateur.
SB Acoustics SB20FRPC30-8 (8" Fullrange Cheap Monster II)