UPD:
Version available
Download SA01 Spectrum Analyzer — XDXD Solutions
Hi all! I'm in the middle of development of a spectrum analyzer software, and would like to share my insights as well as hear your ideas about it
Yes, it will cost money. Circa $50 for community and $300 for professional editions, without any difference whatsoever between the versions (Pro is for >~10 employees company). I'm unemployed for the past year and working full-time on this project.
If i've misplaced the thread, please move it to the "vendors" section. The software is still in development and i don't have any due date...
This is how it looks right now: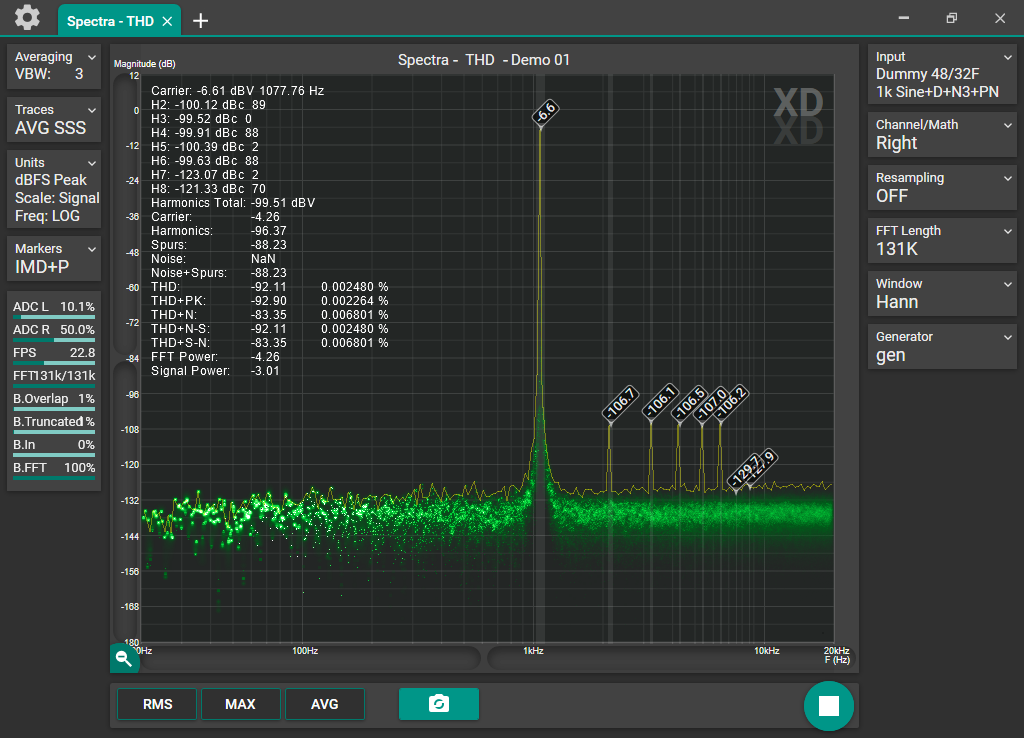 I'm trying to cover all the useful audio measurement techniques as well as implement more generic processings - to give some freedom to the end user regarding the workflow. Works with sound cards (WASAPI/ASIO/MME). Might support other hardware in future. Windows only
I'm already too deep in windows/hardware optimizations/quirks, can't make them cross-platform.
It's about being a tool rather than "following strict orders", mimicking hardware-based analyzers.
Touch, eyes and user-friendly, without much handicapping nor over-complicated settings, everything is within reach of 2 clicks to modify and ZERO CLICKS to see
So far i've got it running
- 16M FFTs at 11FPS (i7 4790k), or like 0.5-1FPS on really weak Atom tablet. 20-25FPS 65K FFT on the same tablet.
- Phosphor/persistence display + display of "all FFT points"
- Various math and averaging options, including synchronous averaging that actually works without sync signal (20dB noise reduction in couple of seconds), cross-correlation, 2-channel transfer functions and so on
- "Very-Dynamic-Sample Rate Converter" - both for the basic stuff (SRC, decimation) as well as neat PLL-locking to measured signal's carrier frequency and reducing it's phase noise/wander, as well as syncing it to "bin centre" frequency for window-less scalloping-less or consistent really-long-FFT measurements.
- Phase Noise measurement
- Support of "notch/filtered" THD, IMD measurements by performing 2-channel FFT and then combining responses together (most consistent way of doing such thing)
- "Noise floor extension"
and many more
Currently i'm working on implementing on-the-fly switchable measurement setups in "chrome tabs" way. It's quite possible you won't have to stop the measurement flow whilst switching between tabs... quite a challenge as i need to switch ALL of the measurement settings altogether without any hiccup.
More on
Software Spectrum Analyzer — XDXD Solutions
Last edited: