This is an investigation whether the high frequency response of typical narrow dipole radiators can be improved by employing a waveguide (like Physics CS2)
Gainphile: S16 - Constant Directivity Dipoles
I was pleasantly surprised to find out that cheap waveguides like Dayton 10" and Econowave measured impressively. They had opened the door for me to investigate as I thought only Dr. Geddes could make those plots. Hence thanks to Zilch and folks at AudioKarma.
Graph:
Dayton 10" Waveguide plot
Dayton 10" Waveguide sonogram
Econowave plot
The dispersion pattern of those waveguide surely will be different and so is the phase, but they should be better than typical back-to-back domes.
First, I measured the dipoles + forward firing Waveguides. These are indoor takes and there are plenty of artefacts.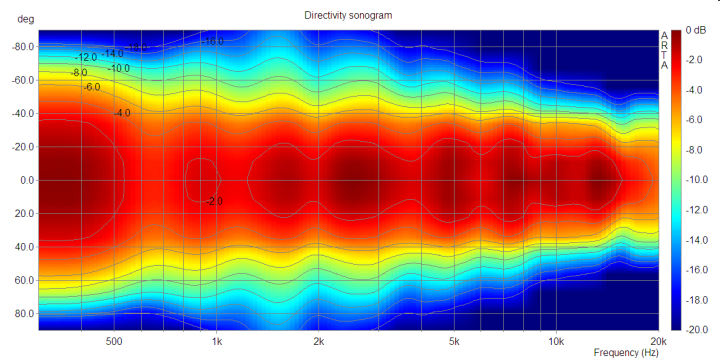 We can observe the dipole directivity transition which goes for
[email protected]
to
[email protected]
deg for the waveguide. The transition is very smooth. There is no blooming as normally experienced by back to back dome tweeters.
Graph:
dome tweeters sonogram (O.P.)
I can almost see the graph as gedlee speakers without the transition to omni in lower frequency, or Orions without the irregular tweeter response. A "best of both world?"
(I saw Orion's plot before in Gedlee plot, but could not open it anymore due to app error, anyone has it?)
The sound of this system at this stage is very smooth. One needs to get used to the waveguide sound as they are nothing like dome tweeters and intial impression would be rolled off highs. They do not sound bright even when equalised as flat (1m). Yet there is a big hole in te reflected spectrum which makes the system sounded unbalaced. This could not be rectified by changing the tweeter level.
The obvious solution is a rear firing waveguide, however this is challenging in terms of installation and aesthethics, so I use dome tweeters instead on the back, firing out of phase. I assumed the rear radiation would be diffused enough when listened from the front.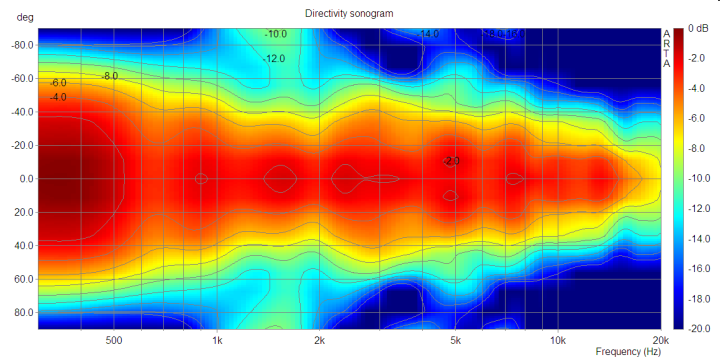 The tweeters become omni directional as it approaches the xo frequency and influence front radiation. The level is quite low at -10 to -12 db but no excuses here they should not be there. A possible solution might be to use very directional ring radiators or one of those Seas DXT tweeters.
The sound however is correct and "full". Like those dipoles with back to back domes, but nothing of the usual signature which is impossible to equalise and caused much questionable qualities.
From the data and subjective impression I see this as a possible approach for great dipole speakers and further improvements may be made with correct type of rear firing tweeters.