Jhofland has designed a very slick solid state relay (SSR) headphone DC protection module that has no mechanical relay to wear out and uses ultra low Rdson MOSFETs that do not alter the signal in any way (as previously shown via measurements on the RTR SSR DC protection board for speakers). This unit however uses comparators to check for the DC offset, which is set at +/-500mV. A CRC filter is used prevent audio transients from inadvertantly triggering the relay. The comparators then trigger an optoisolator which then activates the gates of a pair of back-to-back MOSFETs as the SSR. The module is also stereo, so only a single board is needed for a headphone amplifier. It needs a +/- voltage power supply from the amp's rails with at least +/-8vdc and less than +/-30vdc. This is regulated down to +/-5vdc for the comparators to function. The MOSFETs are rated to 30v presently and are 10mOhm RDson units
SQ4282EY
)
Unit is very compact: 45mm x 37.5mm and uses 8-pin Molex KK connector for all connections.
Works great for DC coupled preamps as well to avoid turn on / turn-off thump. Delay for turn on is 2.5 seconds, turn off depends on how quickly PSU caps bleed off upon power off. But generally turn off thump is not as bad as turn on thump.
Schematic: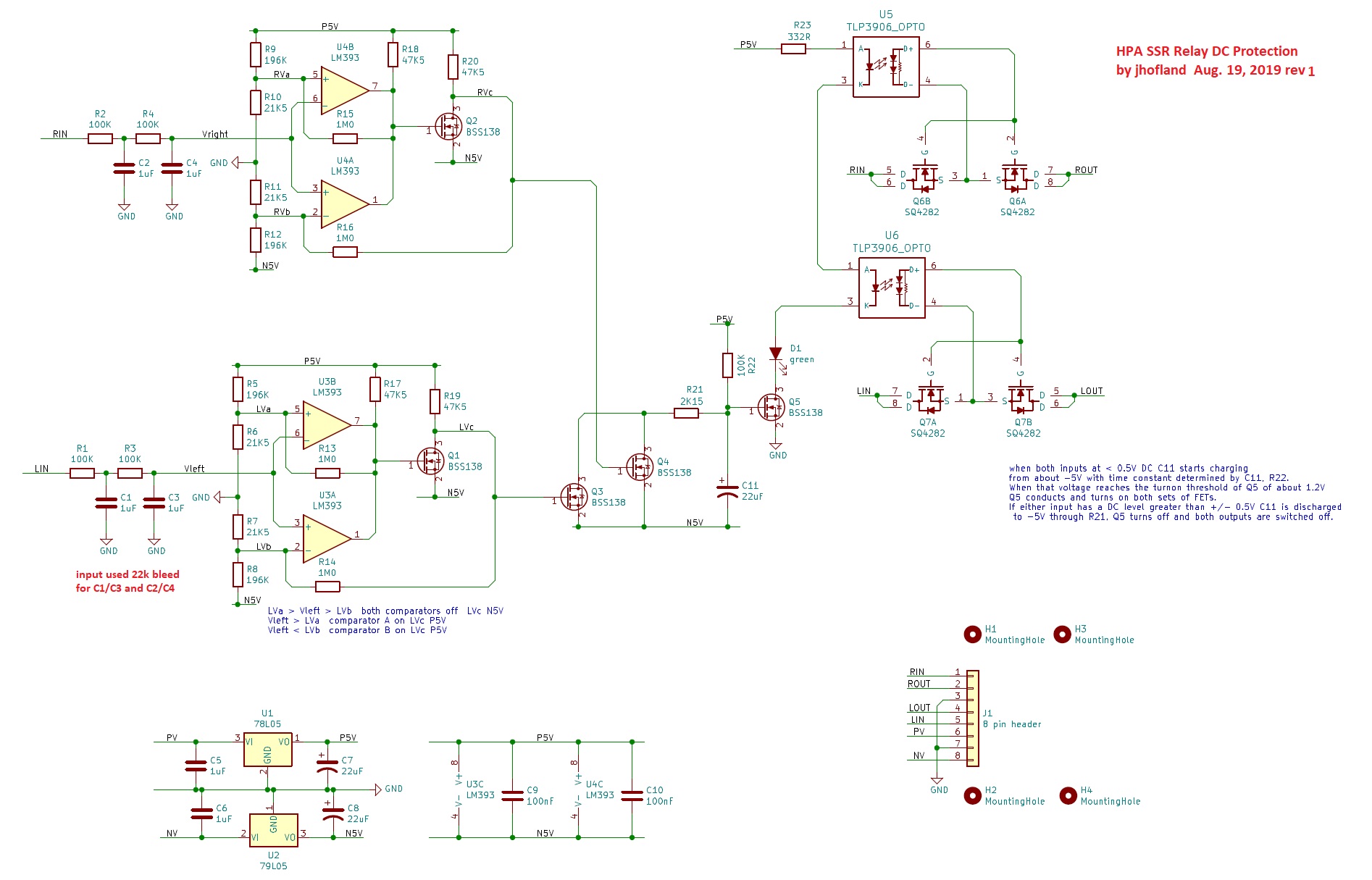 Build topside:
Build bottom side:
Test with parallel 8x OPA1622 headphone amplifer:
FFT showing harmionic distortion spectrum and THD without the SSR DC protection in place for 2Vpp into 51ohm load (9.2ppm THD):
FFT showing same with the SSR DC protection module in place (still 9.2ppm THD):
The unit works reliably and quickly and will protect your headphones from a DC offset error that could blow them up.
These are available as bare PCBs in my shop:
SSR Headphone Protection PCBs | Etsy
Last edited: