I have just bought a pair of 2805s (the first pair of main speakers I have ever bought, not built, in 48 years!) and the front dust cover on one is loose at the top, and buzzes. I am hoping that re-attaching it and re-tensioning it with a hair dryer (as suggested by One Thing Audio) will cure the problem. The top fixing strip is what has come loose, and is sagging down, but I am unsure how it fixes to the frame behind it. I have looked at the strip-down pictures on this forum (shown below), and they don't show how it fixes. I am guessing there is a rib at the back that friction fits into a slot in the frame. It won't simply push back in, and before I pull more of it loose to check it's not bent I would like to know how it should look. If I get it wrong, I will have no dust cover and no functioning speaker until I can get a replacement from Quad. If I can, that is.
I assume the plastic film of the dust cover is stuck to its edge strip with black double side tape, as used on cars, etc. And does anyone know the thickness and actual plastic of the dust cover, in case I have to source it myself?
*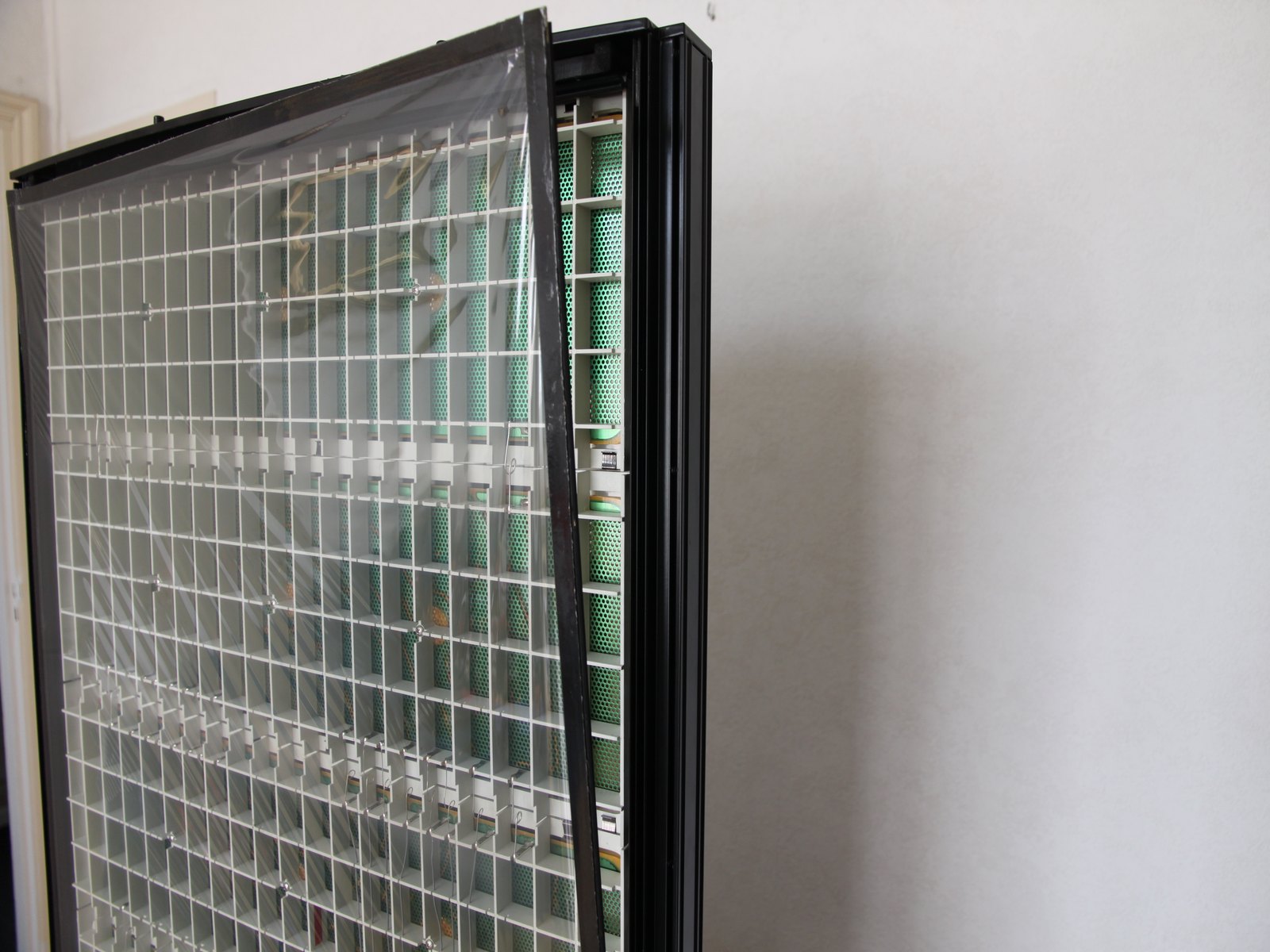 Assuming a part of the dust cover is still in place. Just push it back into the metal support structure of the esl starting at the point where the cover is coming loose. That's all. A lot of information is available at the site of eraudio.
Electrostatic Loudspeakers By ER Audio
Thickness of the dust cover is between 6 and 8 microns according to eraudio.
Remove dust cover altogether and cover speakers when not in use
Do you understand what the dust cover is for?
Assuming a part of the dust cover is still in place. Just push it back into the metal support structure of the esl starting at the point where the cover is coming loose. That's all. A lot of information is available at the site of eraudio.

Electrostatic Loudspeakers By ER Audio

Thickness of the dust cover is between 6 and 8 microns according to eraudio.
Thanks, I'll check that out.

I think the thickness of the factory mylar dust covers is a lot closer to 3um than 6 to 8. I use 3.2um for all the dust covers I do.

The plastic frames press onto a cylindrical feature on the speaker frame. The dust cover is held to that dust cover frame with double sided tape. I use a heat gun to tension them, but it takes a bit of finesse. I'm not sure a hair dryer will get hot enough.

Sheldon
on quad esl 57 the story is different!, there is only 2 plates without the middle one as here.
they stick together with selotape tape.

dust cover is a really important part of the ESL speaker.

if there is buzzing, it means that dust and humidity got inside.
the charge from the membrane immediately push the dust into it
You have to try to use some vacuum cleaner to remove them or the bussing will not go off.


be careful the dust filter as the membrane is very fragile.
Do you understand what the dust cover is for?
The dust cover is there essentially to prevent dust accumulating on the panels and prevent arcing. But if you leave the cloth grille in place and add another cover (plastic or dense cloth) when not in use ,you will minimize this risk, while gaining (IMHO) a small but noticeable improvement in sound.
I have owned over the last 40 years every single model of QUAD ESL and I have yet to find a better speaker, especially the ESL 63 which is overall ( again IMHO) the best of the bunch. But EVERY Quad user should bear in mind that every 5 or 10 years he will have to consider major speaker repair - in particular replacing panels which will deteriorate anyway for a number of reason. It is, after all a small price to pay,for what I consider one the best speaker in the world, especially for classic music lovers.
On dust cover in particular,for example, please read the following :
Posted by kentaja (M) on November 15, 2009 at 13:58:17
In Reply to: Question regarding Quad ESL 63 posted by paa on November 15, 2009 at 04:45:54:
"... While the dust covers do impact the sound quality, this is minimal IMO. I listen to them both ways, with and without dust covers. The sonic impact of the dust covers is not all that great.
If the dust cover assemblies have been rebuilt with heavier film at some point I can understand the difference in sound with/without the covers. Heavy film will kill the topend response and make the entire thing sound like mud.
One can certainly run the speakers without dust covers. Any number of other stats do not use covers. The down side is element life will be shortened, say 5-10 years of service versus 15-20 years. But the speakers will work nicely for years without covers. Just turn them off when not in use. This will extend panel life in several ways.
DO NOT ever take a vacuum cleaner to the elements. This can cause damage in all sorts of ways and if there is enough contamination inside the panels so it is causing issues it is time to service panels."
Thank you all, for the useful information. I won't be using them without dust covers, certainly not until I know a lot more about them. Our house appears to be particularly dusty, and the cat doesn't help. One thing I might consider is making less restrictive metal grilles, similar to One Thing Audio's professional ESL63 grilles. But again, that's for the future. A different colour fabric is a possibility in the near future though. I fancy a Chinese dragon design.
They have just been serviced, two months ago, and bass panels replaced/repaired, so it's just (hopefully!) this sagging dust cover.
If Quad won't supply a new cover at a reasonable price (I am awaiting a reply), where do I source 3um mylar. That's polyester, right?
Last edited:
Thanks for those links. I did wonder if Mylar was ideal, as I also thought it might not shrink much. The existing dust cover feels softer than Mylar, but it may not be original. I'll see what Quad say.
BTW, before I take it off again, what is the metal grille made of? It's appears to be non-magnetic, but I haven't examined it properly yet.

In my experience the mylar that I use shrinks plenty for tensioning dust covers. But I use a heat gun rather than a hair dryer.
I test and run the modern quads for short periods of time without dust covers. I do may final QA microphone measurements before I add the dust covers as well. You won't hurt anything by running them for a short time sans covers. I vacuum them off before I install the dust covers as well.
Quad sold a lot of 63's without tensioned dust covers, so not tensioning it at all is an alternative.
Also if you want a different grille cloth, do I have a deal for you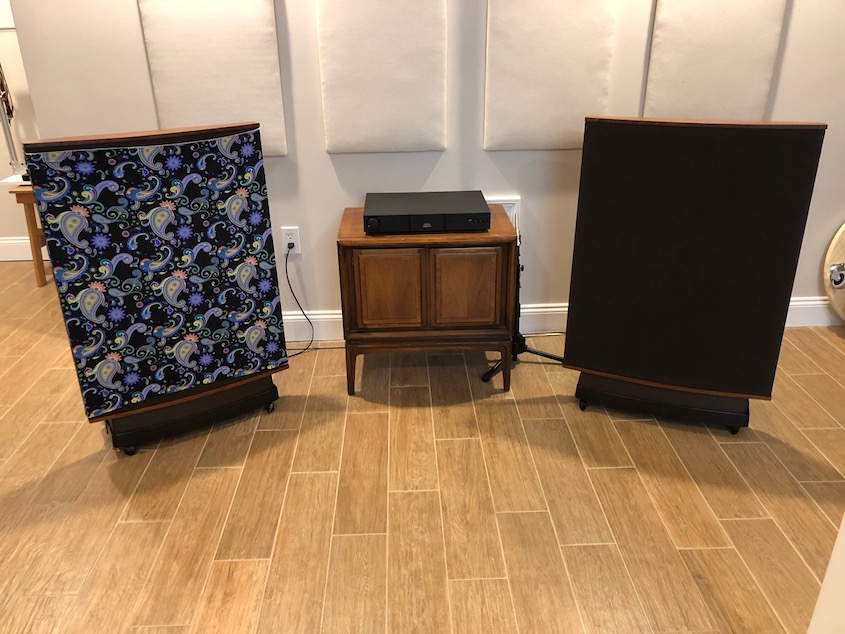 Sheldon
3um was what I made the diaphragm out of.
This same seller also sells 2um for dust covers. No need to add extra mass unnecessarily if you have to.
Regards
David
I have contacted Quad, who will supply a complete dust cover, including frame, and the missing grille cover screws. I think I will follow that route for now, but the lightweight polypropylene film I've seen from NZ looks interesting for the future. The Mylar from Taiwan could take over a month to arrive, and I need to do this quickly, in case I have to chase the ebay seller.
But fascinating info for the future. I was hoping not to have to rebuild any more speakers, but hey ho. As they say, if you can't take a joke, you shouldn't have joined!
Well. I took the front dust cover off, and played some double bass (Quad said it's OK to run for a short test without the cover). No improvement, so just to be sure I took the back one off too. Still no better. So I shone a torch diagonally up the lower bass panel where the buzz seemed to come from. And I could see the diaphragm was wrinkled and vibrating at that point. Nowhere else that I could see, so a faulty bass panel then!
Great. Chasing the ebay seller is likely to be fruitless, but I'll do it anyway. They had seemed OK when I played them at home initially, so I left positive feedback! But double bass sets them off. I will also get on to OTA and try to get to the bottom of what was actually done to them.
Oh, and the dust cover that is loose has a stretched plastic surround, so it won't grip the metal tube on the fixed frame. I turned it upside down and the fault moved to the bottom. I can deal with that, thanks to all your help, but the bass panel is another matter.
Status

This old topic is closed. If you want to reopen this topic, contact a moderator using the "Report Post" button.
Quad 2805 dust cover problem