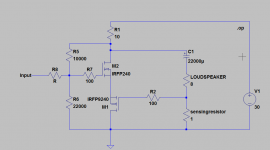 I had this idea this morning. I am about to start building some version of this.
This is just a very simplified schematic to show the general function.
This should be able to give the simple Zen-amp a respectable bass control (i hope), similar to what the positive current feedback does to the First Watt F7.
I am very tired this morning so please excuse any error i might have made.
I have only simulated this with DC, and it seems to work. I will test it further in LT spice soon.
Any thought or criticism on this idea?
Cheers,
Johannes