Hello, i collect a bit Peerless xls drivers.. no Thymphany copies..
Building soon 2x "Thor" Boxes for my 830500 drivers.. they are actually new oldstock aswell.. another project i also will try is "sonosub" but with passive radiator from Scan-speak,. so 4 cabinets total.. just to try out what suits me best.. the subwoofer will be used for music, and movies.
Have also an old 1x 830452 10" with fiber dustcap and a 12 " peerless (425g) passive radiator that i will use in a passive box build im making right now..
The last one i have is a xls10 from a Gallo acoustic subwoofer.. it is playing lovely in a closed box on my stereo room at the moment.. just need to make a finish on the box.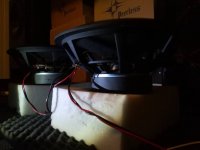 Last edited: