The idea of using an opamp to regulate its own supplies is not completely new, and a few examples can be found in the application literature of some special amplifiers, like the LM3900 Norton amp or the open collector series TAA86x, but here the concept is more general, and also more radical: the opamp directly regulates its own supply in a shunt fashion, without any interface.
This can be used for standalone circuits, but the main interest is to use one amplifier of a multiple package to regulate the common supply.
Why not just use a zener or a classic voltage regulator?
Sometimes, the supply is used as a reference, and needs to be of a better standard than what these simple solutions can offer.
How does it work?
The principle is to tie the output to one of the supply rails, and operate the output stage in single-ended, Class A mode.
This can be done in a number of ways, as this sheet demonstrates: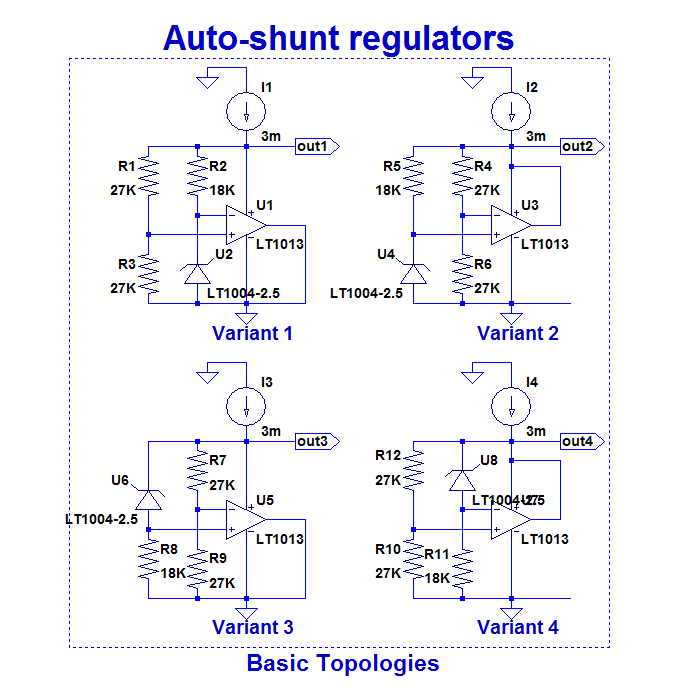 The input circuitry is basically a bridge, having one (or more) non-linear element.
The examples use a voltage reference, but any element having a concave V/I characteristic like a junction could also be used.
If the non-linear element has a convex characteristic, one of the resistors has to be swapped for the non-linear element, but the mode of operation remains the same.
These circuits are incestuous to a high degree: not only does the opamp regulate its own supply, but this supply also biases the reference.
This could cause self-starting issues, but it also means that the whole circuit operates in a complete stasis, yielding an extreme degree of accuracy and performance.
Of course, these simplified examples are too brutal to work in reality: one of the problem is the direct connection of the output to a supply rail: for example, even when its output is supposed to be in a saturated low state, an opamp does not like having it directly and externally shorted to the - rail: it might misbehave, consume lots of current, etc.
Then, there is the issue of bypassing: a supply should be bypassed, but connecting a decoupling cap between the rails will result in capacitive loading, something opamps do not like.
Therefore, a practical circuit needs some adaptations:
A diode is added in the output to allow it some breathing space, and a low-impedance RC network is used as a bypass.
I will discuss these choices later.
This picture shows the performance of the example circuit (impedance):
The -94dB at LF/DC is equivalent to a ~20µΩ impedance, which is unusual for such a simple circuit biased at only 3mA.
The rest of the curve follows the GBW characteristic of the opamp, up to the resonance frequency at ~10kHz, determined by the opamp and the 47µF bypass cap.
Beyond 10kHz, the impedance assumes the value of the 1.5Ω damping resistor