Hi all. A few years ago I built a pair of full range column speakers using a pair of Alpair 7.3's. The folks who bought them want a smallish sub to match so I've been working on this lately.
This image shows what it will look like when done. It's downfiring GRS 8SW-4 8" driver, powered by a Dayton SA25W plate amp in an enclosure of 1.281 CF. I've gone in that direction for size constraint as it's going into a small house.
I'll post some fabrication pics next time around.
Regards John L.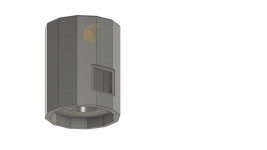 Last edited: