Check the little transistors that supply the power to the motor.
..you think one of the 4 transistors is broken .... I try to replace them ..
Is there any equivalent A1015?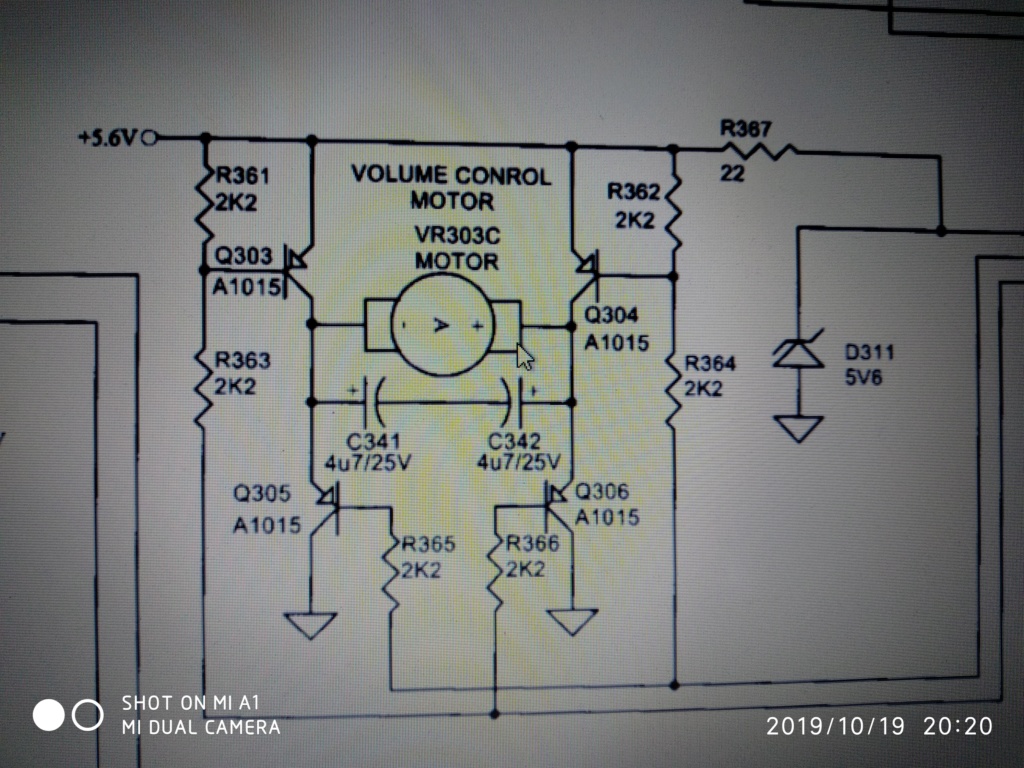 What happens is that over time they can fail.
Place your DVM across the motor supply, (between C341+ and C 342+) measure the voltage. That will tell you if there is an issue with the transistors.
2SA1015 can be replaced with almost any PNP signal transistor with a reasonable hfe; 2N4403, BC558 etc etc etc.

DO NOT change transistors for the sake of it, it could be a dirty commutator in the motor!
Seems a great deal more likely either way. 2SA1015s would probably sustain <5.6 V approximately forever.
That pot doesn't look super expensive in the first place (NAD parts quality...). It could very well be that the motor just needs a bit of running nonstop at full voltage to clean the brushes and all, at least that seems to help older DC motors. The downside is that you'd have to get the motor out first, or at least decouple it from the pot, so unsoldering and dismantling the thing would seem quite unavoidable.
Do look at motor voltage as suggested.
Its rather a dodgy looking H-bridge circuit, there are no free-wheel diodes to suppress voltage spikes, only capacitive spike suppression, which causes high current spikes on switch-on whether or not it succeeds in snubbing high voltage spikes on switch-off. Perhaps the control lines are switched slowly. Hopefully with enough dead time to prevent shoot-through.


Basically check all those transistors, and definitely replace the capacitors before powering up again, if they've dried out inductive kick-back spikes will likely happen.


Also I'd apply a little machine oil to the bearings if accessible.
Last edited:
Status

This old topic is closed. If you want to reopen this topic, contact a moderator using the "Report Post" button.
NAD C350 volume control problems !!!