I thought to try this & did. I am very happy with results after bumping to the tweeter back into alighnment w/ other drivers. Smooth, detailed & still retain the OB magic. Just more refined alot better imaging. Stage is fairly much stuck to between speakers, but it is very pin point. The salad bowl's are rubberwood. I thought it would all be shouty, is not the case. I use a 600hz effective 3rd on the mca15rcy & 4mh on 12" alnico fr & just a 2uf cap on the 3" fr tweeter. The 3" were ripped from a pair of highend cherry JVC mini units. 300B PP w/ 26 DHT pre leading the way. Dual powered subs set at 60hz 4th active. All seems to integrate very nicely. Why doess it not shout..? This was just a experiment.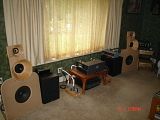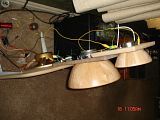 Yep, ........There ugly as as a mofo...*s*. I did however learn alot on how OB reacts to such things. Turning them around would not work. unless you ment mouted on back of baffle. That would be intresting also. I am sure the percieved stage would move backwards, as some times I put very small lenghts of sono tube, 3" max around the back of driver to delay OB effect & sharpen imaging & move stage back. I got alot of pretty commercial speakers collecting dust in the dark..*s*
J & G
Our local Target store had them. i seen em while getting dog food & swooped em up..
Not sure about the Fs of the 12ae. I will pull the 12ae when I get replacements for that spot & lower the 12 or 15 to floor. The 12ae really should be used for a single fullrange for someone. I am going TT on my next build. I think I will keep this basic Salad Bowl gig going though, it does alot of things well. The 12ae are to rare to keep in that spot.
Status

This old topic is closed. If you want to reopen this topic, contact a moderator using the "Report Post" button.
My ugly A.. salad bowl OB's..