since it is my first post here let me say hello to all users in this forum!!
and sorry for any spelling errors since english is not my native language !
i am strating to assemble a tube amp based on the schematic found here:
Five Tube Stereo Amplifier
i already have ordered all the parts and started the assembly using an old technics tuner case as the chassis. it is getting very preety and as i wait for the final parts to arrive i am still learnig investigating ans still have a few doubts that i hope you guys can help me with:
i am using a transformer with secondary of 340-0-340 instead of 300-0-300
do you think this will be tolerable or do i have to alter the dropping resistor/choke to lower the voltage?
also the designer says that the OT primary impedance is 3300ohm...isn't this a very low value for a 6v6? i have read that most 6v6 OTs are in the range of 5000ohm....following advice on another forum somebody told me to just buy an OT rated for use with single ended 6v6 amp so i ordered 2 of these
Output transformer for Fender Champ 5F1 or 5E1 Valve Audio Guitar Amplifiers 6V6 | eBay
will post pictures of the chassis and build progress soon
best regards
Hugo
hi
this circuit is not best 6v6 project.
this is the mockup i draw
i made it star grounded also
green is ground wires
green meshy wire is shielded wire for the input
brown stripes are the solder tags for point to point wiring
in the big red circle is the detail for one channel solder tag with components
big squares are the OTs
smal squares are rca jacks for input and on their right side is a dual gang potentiometer
sorry for the raw and poorly drawn thing but it serves its purpose for me
Administrator
Joined 2004
Paid Member
This is an English language forum. If you wish to post in a different language, please include an English translation.
Thank you.
Google translate:
Hello Hugo!
Congratulations !, the amplifier is magnificent!
Where are you ?, I Valencia, Spain, and you really can not help much because I myself am starting this!
i am using a transformer with secondary of 340-0-340 instead of 300-0-300
do you think this will be tolerable or do i have to alter the dropping resistor/choke to lower the voltage?
Well, yes, a 340-0-340 can be a lot different. I would suggest to download Duncan Amps PSU-II and learn how to simulate your power circuit.
One thing you could try is to reduce or even do away with the C7 input cap to bring down the B+. If your choke doesn't buzz then it will sound much better with this.
Otherwise your B+ will be higher.. it might be ok. It might not. If your OPT has a low primary impedance, and you have significantly higher B+ then you will get into trouble. So be careful, do all the maths and simulate before you build.
Yes, I would say 3300 Ohm is much too low. It might work for 6V6 in triode, but then you will get maybe 1 Watt... you will need quite efficient speakers for that... So ask the seller what the primary impedance is for 8 Ohm speaker. Also, what impedance and efficiency are your speakers?
I suggest you look up the specs sheet on the 6v6. Figure out what you will be biasing your 6v6 at then draw a load line. If your B+ is too high and the primary impedance of your OPT is too low, then your 6v6 will glow
red
for a while getting very HOT. I don't need to tell you why this is a bad thing..
Ian
Last edited:
thanks a LOT for your help soulmerchant
i am a super noob in this matter but found very usefull info on your comment.
so i would like to add:
i am not using a choke, i am using a resistor of 750ohm like on the schematic, if my amp powers up etc and everything is fine i will toss away the resistor and replace it with a choke of equivalent dc resistance..i did this because if i have to change the value its easier and cheaper to replace the resistor then a choke
the output transformers i ordered are for the fender champ 5f1 so if i am not mistaken have a primary impedance of 6k, secondary i know its 8 ohm i only saw this after i made the order...like i said...noob mistakes....i just searched on ebay for OT for 6v6 single ended, looked for a cheap pair , those looked good, were shrouded etc so i ordered them...(from jellyfish audio)
as for speakers i do not have good speakers yet...
i have some 2 way sony speakers from my home stereo that i will be using for testing, i opened the casing and they are rated 16ohm each and connected in parallel so i guess that equals 8 ohm and will do to test the amp i guess ,and then will buy some good more adequate speakers.
oh and for input filter caps i read that the 5y3 rectifier tube i am using does not like high value reservoir capacitor . looked on the datashhet and if i remember well the cap max value is 20uf but read on a forum that many people are using 50uf without tube damage, so after some decision making instead of 47 + 33uf like on the schematic i have a dual section 32 + 32uf 500v..not very extreme so i damage the tube, no too low to have lots of ripple...at least that were my thoughts
Last edited:
already did some simulations on duncans software, learned how to lay out all the components etc but i am unsure what value to enter as the Load so left the value as the default 5k ... 680 volts form the transformer as opposed to 600 volts with my psu design seems to make a 85v difference across the load resistor according to the software...
sorry for the lack of basic knowledge.....

regards
Hugo
Last edited:
Hi Hugo
Everybody starts somewhere, and I just hope to help you find some success with your first project. Others here can help too
I personally would have not chosen 6v6 single-ended. Push-pull with 6v6 is the more common way to try to get closer to Hi-Fi with the 6v6.
You need to use the PSU-II differently. You need to calculate how much current you believe your amp will draw, and use that as your load instead of a resistor in PSU.
Be certain to check with the seller that the OPT primary impedance is 6k into 8 Ohm.
Let's imagine that you manage to get the plate voltage down to around 300V, and that you design your 6v6 to only draw somewhere around 30-34 mA. From the RCA specs sheet I think you will have 10-12% Total Harmonic Distortion. I've been told that that is nice for a guitar amp.
Anyway, put a 30 mA load into PSU and see what happens to your B+ - btw- you also need to know your power transformer specs better to get accurate results from PSU-II
well its been a while and i have almost completed my project. it has some issues but it works. i have also added 2 em80 vu meters. here are some pics.
the big board on the middle is the em80 "controller board thing" i built.
the amp has good sound and is much more "clear" than my solid state amp but guess what...it hums
volume dependant slight hum and a pretty loud base hum which is volume independant. apart from that i am very pleased. it is still missing some plexiglass on the front hole and some sort of illumination on the inside to see the guts through the plexiglass, also a top mesh cover would be usefull to add safety to the thing.. i will not go to much trouble ripping the thing apart to find the hum because now i feel i want to go one step further and build something top quality, of course if anyone could provide me a good proven schematic and layout
best regards to all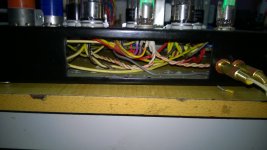 by the way heres some info regarding some random aspects
the cluttered wire mess is totally my fault i felt like it was too simple the schematic so opted to mount the components on solder tags and connect all with wire...i regret that
the orange capacitor on top of the chassis is not a capacitor, it is 3 resistors stuffed inside a cap can filled with silicone, it was a neat way to pack the 750ohm power resistor and it helps with heat disipation, it barely gets hot. also the cap clamps seem factory look but i made them from sheet aluminum
i tried dc heaters but the hum remained the same so went back to ac with hum pot because less clutter
and my b+ under load measures 278v
the 2 trimmer pots on the em80 controller are different values because i did not had 2 the same...i will have to correct that since the 2 eyes operate slightly different from eachother because of that
there are some wires that touch resistors but it is safe because it is cloth covered wire and rated for use in home ovens, also there is wire coming in or out of the chassis with no grommets becaus i did not had any but is cloth wire and reinforced with cloth sleeves and its super hard to tear off
Last edited:
I read that 6v6 single ended sounds very good, almost as good as 45 according to Tubelab (?).

As you said already - You have wires through bare holes in chasis - better to install rubber gromets to prevent sharp edges of metal damaging wires over a period of time. With kids in house, get a cover for that transformer on the top of the chasis soon.
Last edited:
Status

This old topic is closed. If you want to reopen this topic, contact a moderator using the "Report Post" button.
my first tube amp project