Got 2 of the JBL 2360 / 2446j horns working w/ new Titanium diaphragms.
OMG is it loud w/ only 100 w/ ch. Need a new 16 ch. board, an amp or two (so I can get rid of the Sony receiver and have a true tri-amped system), and to get some of the 15" woofers reconed.
It is nice having a remote control tho....... Got the 5 channel Sony (100w/ch. x 5) for a hundred bucks @ Best Buy over thanksgiving. Great deal for the money....
2 of the 5 horns have been repainted. Flat black inside, and gloss black on the back or outside. Only got 1 of the five 2446j's
repainted so far. Trying to make them look like new. The horns in this photo are just sitting there. Now they're hung from the ceiling in the opposite corners of the room.
It sounds incredible even w/ only 2 of the 15" woofers working. All of the MB-1's work fine and there are four JBL 4311 studio monitors in the room also. 'Been buying lots of concert DVD's and watching them in true 5.1 surround.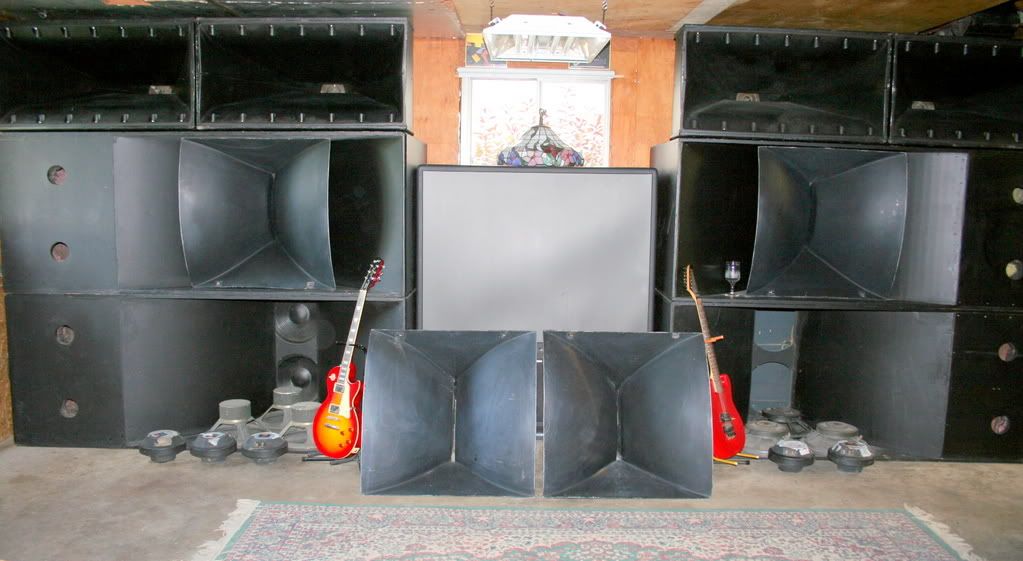 Re: Radian ?
RacerXtreme said:

Better than the ribbed Titanium JBL ?

How much power can they handle ?
Yes. Enough to use domestically.
Sissy speakers ?
Ah.......... no sissy speakers here...........
Whaaaatsssup Cal ?
You been "upgrading" your system at all ?
I'm just getting done w/ a complete ceiling to floor kitchen remodel job, so I should have some funds in the near future to get all this stuff up and running again. Yeah, I'll take some more pics.
Can't believe I got these 5 JBL 2360 / 2446j horns for so cheap.
Some of the heads of the screws were stripped out so it took a little effort to get the covers off. Took my time and made sure the gaps were spotless. A few of the push type terminals need to be replaced and need new gaskets for the covers and for where they bolt up to the horns. $227.50 for five drivers and five horns. The horns get a new flat black paint job on the inside, and gloss black on the back.
Just bought a 16 channel Yamaha mixing board off Ebay. It's an older one but has the nice meters. $46.00
Till I get some serious cash together for a new board, it will do just fine. Need another amp........ maybe two........ so I can run it as a true tri-amped stereo system. Wish you lived closer so you could hear it. It sounds great and I'm nowhere near done.
There isn't any EQ in the system now at all. None. I've got one, but haven't hooked it up. Wanted to see how good I could get it to sound first.

Re: Sissy speakers ?
RacerXtreme said:

Took my time and made sure the gaps were spotless.
I had one on the bench last week that someone had filled with ferrofluid. Boy, was that a pain to clean out...
big hornz
Yeah, I remember the 1803's. Very cool horn. Definitely a keeper.......... You got "Y" throats on them ? Here's another pic of you know who........