I saw something in the Baby Huey thread (great threads, and Kofi's is priceless!) and I'm hoping to get more info on it...
In the original version with cathode-biased EL84 outputs, there's a bit about using using two separate and bypassed cathode resistors (one Rk and Ck for each output tube) with the bottoms tied to a single 39 ohm resistor. This is supposed to reduce IM products and helps the clarity of the output.
I've attached a quick drawing of the circuit as I understand it from the Baby Huey thread (see below).
I understand Allen Wright's PP-1C EL34-triode amp uses this same trick (and used it a long time ago). That schematic is here: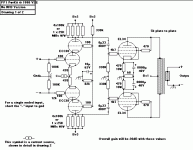 I'm hoping this is applicable to all tube push-pull output stages that might wander into class AB. Questions:
1) How would one go about deciding on the proper value for the shared cathode resistor (Rk3 in my drawing)?
2) I noticed the Baby Huey uses 39R for Rk3 while the PP-1C has 68R. Does that mean the value is relatively uncritical?
3) Can something like this be accomplished with a single, common cathode resistor such as would be necessary with a pair of DHT's using a single filament transformer? Maybe a small value unbypassed resistor (say 47R) in series with the bypass capacitor, between the cap and ground? Or would that simply introduce a shelf in its low frequency response due to partial degeneration?
Thanks!
-=|=-
Last edited by a moderator: