I have been thinking about my hobbies over the past half century.

My initial interest was electronics, in particular, audio electronics. Audio was a great way to learn about electronics. However, improvements in audio are subject to diminishing returns. Once one reaches that point, one stops (usually).

Computer hardware design has been another great hobby (as well as a profession). It was within reach of a hobbyist in the 1970s and early 1980s, but hasn't been a practical hobby for a long time.

That leaves computer programming. Software is unbounded in the scope of the problems that it solves. Programming has been an enduring hobby because it is both practical and has no limits on creativity.

What do you think? Do you guys have other long-term creative hobbies?
Ed
When I retired in 2021, I sold all my audio electronic gear, gave away amplifiers and other audio gear to friends and family. Kept the gear I really like, now down to only two setups. No more testing equipment, tubes, etc.

I bought a 1953 Chevy pickup and installed a 1995 Chevy LT-1 engine and 4L60E transmission into it. This engine has a PCM and software, which I've been tinkering around with for the past 6 months.

Not really interested in writing code. It's too boring for me. But, I'll sit here on the internet for hours each day. I'm just a computer software user. Took Fortran 76 in college and never used it. Used mostly MatLab while working as an engineer.

Another long lived hobby is live steam locomotives. (My stupid train as my wife calls it). Three quarter scale live steam Shay Locomotive. Train nuts really are nuts...
Duke58 said:

Train nuts really are nuts...
Hee, hee... Model railroad switches are digital logic design on a scale suitable for a hobbyist.
Ed
I'm a volunteer at a local radio station and used to frequently build equipment when the studio was still mostly analogue. A silence detector, a field memory recorder, converters between balanced and unbalanced, a circuit to connect turntables to two mixing consoles, correction filters for the line from the studio to the transmitter, drivers for the red on air lights, a DTMF-code-controlled thing to hard reset remote computers and so on. Unfortunately it's all in the past.
Last edited:

Another long lived hobby is live steam locomotives. (My stupid train as my wife calls it). Three quarter scale live steam Shay Locomotive.
Neat! Please post up a pic of your loco.
I have a steam ticket, having worked in a variety of steam related jobs, Pulp Mills etc. Also love trains.
jeff
Last edited:
I am sure the radio station appreciated your work.

We share the same motivation in audio - to design and build better equipment than one can buy.
Ed
For the local radio station, it was usually a matter of building things we couldn't buy, either because they were too expensive or because they didn't exist.
Good topic ED - I am an Engineer (automotive tooling) and a guitar player (average). My hobby is to combine these skills to design and build an interesting guitar, learn to write patents, and learn much more about audio. If I can sell my Intellectual Property, it is a business (I have an LLC). If I don't get that lucky, it is a hobby!

You can see my Folded Horn Acoustic Guitar Patent #10,777,172 thread in this diyAudio Instruments and Amps forum.
My daughter had me make some EMDR light bars for her husband's practice. I started with a get-hub project, but the Python code refused to talk to a PC USB port, so I abandoned that design and wrote the controller in C#, using MS "community" (free) visual studio. I changed how it worked, ie the teensy uP does all the work and the windows controller just sends commands and makes ping sounds.
The project introduced me to some cool things including:
Teensy microcontroller:
https://www.pjrc.com/store/teensylc.html
3-wire RGB LED strings:
MS visual studio:
https://visualstudio.microsoft.com/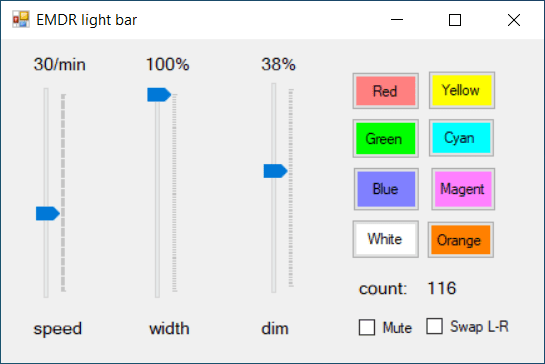 I meant to extend it a couple ways, but I get lazy and it hasn't happened yet.
I think we need a digital "preamp" using one of the cheap uP's available today, but maybe it's too easy to just use an old phone or PC, or RPi, and existing media players.
I'm tempted to buy a 3D printer or CNC machine. Any experience you like to share?
3D printers are great for prototypes, if that is all you need, and affordable. Production intent parts are OK if low volume, but not super accurate, high volume is slow.

CNC machines are great, and they make some very nice small machines today. Perfect for high volume production and very accurate of course, but not cheap!
I don't worry about trying to make ever better audio circuits, or speakers, I like exploring stuff that's new to me even if it's not 'modern', and after more than a decade the list of ideas seems endless. Generally I like to fiddle around with old-tech stuff, which doesn't require state of art capital equipment.e.g.
Film photography & developing it myself (I limit myself to b&w)
Using a dip pen to develop my hand writing and use it to write letters to friends and family, I will shortly make my first attempt at making ink from a bag of black walnuts
Hill walking - is this a hobby?
computers - I fancy building something from the 60's using microcontrollers (new to me) to emulate core memory and tape units, also looking at neural networks, learning LISP etc.
Radio - I fancy trying to bounce a signal off the moon, and I'd like to get a Ham license, learn CW and build a Paracet transceiver
textiles - I'd like to make my own waistcoat, never tried anything of the sort before
Painting - have tried acrylics, it has potential if I can develop some skill
guitar - I have an acoustic and electric, just need to learn how to play 'em!
Sailing - a friend of mine got himself a nice boat….
the list of long term hobbies that you can make is longer than any of our lifespans can support…… I just need to retire first
Always been a woodworker, wanting to build speakers in my teens got me into it. Then I got into car audio doing large installs back in the early ninety's, sub boxes and door/boot(trunk) build outs with all the swoopy fiberglass shapes so I brought a decent tablesaw(TSC10HB) for the straight lines... then I got bitten by the bug and built up a whole workshop and started doing woodwork as a semipro building furniture and fancy Bars for my workmates.
It ended up costing more money than I could make off it so I stopped making stuff for sale... back to speakers again.
Other long term hobbies metalworking(welding mainly)and car metal resto work/spray painting.
Always did my own home renos and helped out the mates with theirs, so much so I gave up my shiftwork job in a metal refinery and became a Handyman full time... now I got no time for hobbies
Also played guitar since 11yrs old and now bangin the Black n white Ivorys like Ed above☝️
My hobby no 1 has been pistol shooting for the last 50 years. Mostly air pistol 10m, also .22 25m and 50m (ISSF). I have also been organizing events, judge, trainer and president, secretary of clubs.
Model planes, motorbikes, photography, home remodelling, dogs, fishing civil activity (not political) etc. are intermittent. Going to concerts, and exhibitions, doing voluntary work there is very comforting too.
Yesterday I helped my gf with this gig at her workplace, art museum.
Recognise a few things here. Have been playing the pipe organ as a hobby for next to 40 years but gave that up 5 years ago because I just can't make the needed time free to just keep up. Let alone make progress. Then there is a bit of photography. But I'm a fairweather photographer
Not for me during the winter months. Maybe catch up a bit on the development of film in the drawer and scanning. And live steam trains is also on the list. I made an electric 5" one because I thought I'd have a loc "fast" (didn't work out that way) but now I want a real steam one. Drawing up the drawings for it. Will take at least the whole winter and probably longer.
If I just could spend less time on the internet...
I will forget something, for sure.
Listening to music and going to concerts are my favourite hobby and that brought me to audio and then to diy things.
Assembling PC / installing OS for family and friends.
Photography, but I'm not that good at it.
Reading (not so much anymore), Kafka is my favourite novelist.
Built static model planes in the past (not anymore).
Watching sports, does that count as a hobby? Especially cycling and winter sports.
Cycling and that brought me to the desire to assemble my race bike.
PS cyclists are nuts just like audio guys: snake oil everywhere...