Hi There.
Not posted here for a long time, but perhaps someone here will be good enough to help me out?
I purchased a set of Koss Esp-9 from E-bay a while ago and have finally got them out of the packing box they went into during a move a while back.
They work reasonably well, though I think I will need to give them a decent renovation to get the most from them. Before I do I thought I would turn my attention to how I am going to drive them. Ideally I would like to drive them from a decent little digital amplifier module that I have a few of. But that currently is not possible due to the grounding arrangement of the Esp-9. The problem can be seen in the schematic below
You can see in the schematic, the left and right channels of the energiser box share a common ground. The diagram shows this ground tied to Earth. Though my multimeter tells me that it is not. I may be reading the schematic wrong. I have always hated Earth wiring! This shared ground for the left and right channels is a problem for a lot of amplifiers as not all can tolerate having their negative terminals connected to a shared ground. Digital amplifiers certainly don't like it.
Now I know from my internet research that the later Koss model the Esp-9b came with an updated energiser box that had a new grounding arrangement. This was apparently introduced because of compatibility issues with some amplifiers. The only other difference I have read is someone suggested that separation improved on the later model (possibly linked to grounding differences). I have hunted high and low, but I cannot find a schematic for the Esp-9b anywhere. But I would like to try and find out what the differences are and document a conversion from 9 to 9b. It would let me connect more amplifier sources to my headphones and I reckon might be of interest to other Koss Esp-9 owners.
I am guessing that Koss would want to solve the grounding problem without altering too much the construction of the energiser box or headphones, so I have made a guestimate as to how they may have separated the grounds....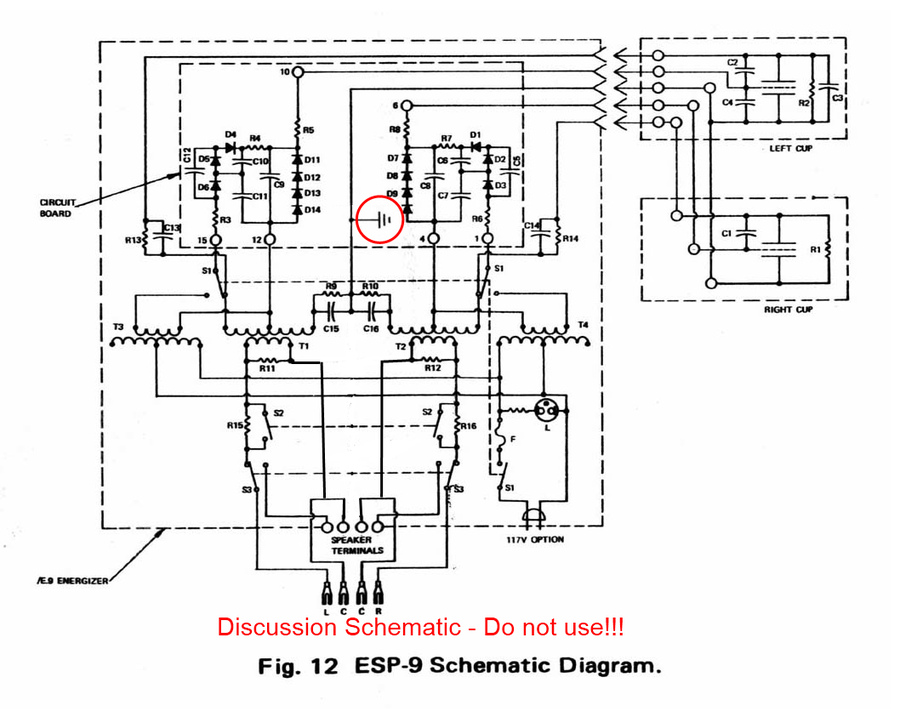 Now here is where the help comes in...
First things first, can someone with a good knowledge of grounding schemes just check what I have done and tell me if it will function safely. I am especially interested in whether I need to tie the shared ground to earth or not. I guess so for safety reasons. I guess that on my energiser it is not tied to earth to avoid a ground loop between the energiser and the amplifier
Secondly. If anyone out there owns a Esp-9B set and a multimeter... any chance that you would be prepared to sketch out the schematic for the Esp-9b?
Last edited: