Hello,
I am a newbie at this crossover business. I have a horn mid-tweeter that has a resonance at 514Hz: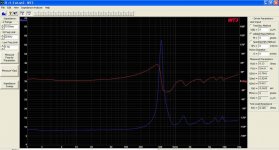 I would like to make a simple high pass at 2khz with a 5.6nf cap. Is there any impedance flattening circuit that will flatten the 514hz impedance peak? I think this will be beneficial to have a closer to textbook 6db rolloff, no?
The zobel RC is only good for flattening the rising impedance but not the peak, correct?
thanks,
Herman