Just trying to recoup some funds for some other goodies I want. I stand behind everything that I sell and guarantee items will arrive as described and not DOA. Check out my iTrader and reference. Just PM or post if you are interested or have any questions. Paypal or USPS money ordered is preferred. Thanks for looking!
BNIB Xtant XIS 2.4 4" Concentric "True" Coaxial
(x2 sets) -
$140/ea or $270/pr shipped OBO
BNIB Xtant XSC 2.4 4" Components
(x1 set) -
$190 shipped OBO
All Three Sets $420 shipped OBO
These Xtant components were actually made by Morel when Xtant used to be at the top of the car audio world, pre buyout. These Xtants are comparable to the Morel Integra Ovation 4" series. I picked these up while ago and when the JBL MS8 came out, these would have been perfect for a 5.1 or even 7.1 system with the addition of some dedicated midbass drivers. Plans change and deciding to go with a Zapco DSP6 combo, these need to sell
XIS Technology:
Xtant XIS Integrated Seperates
XIS 2.4 Manual:
http://www.xtant.com/archives/html/techSupport/pdfs/XISManual.pdf
XSC 2.4 Manual
:
http://www.xtant.com/archives/html/techSupport/pdfs/XSCManual.pdf
XSC 2.4 Review:
XTANT XSC 2.5 Component System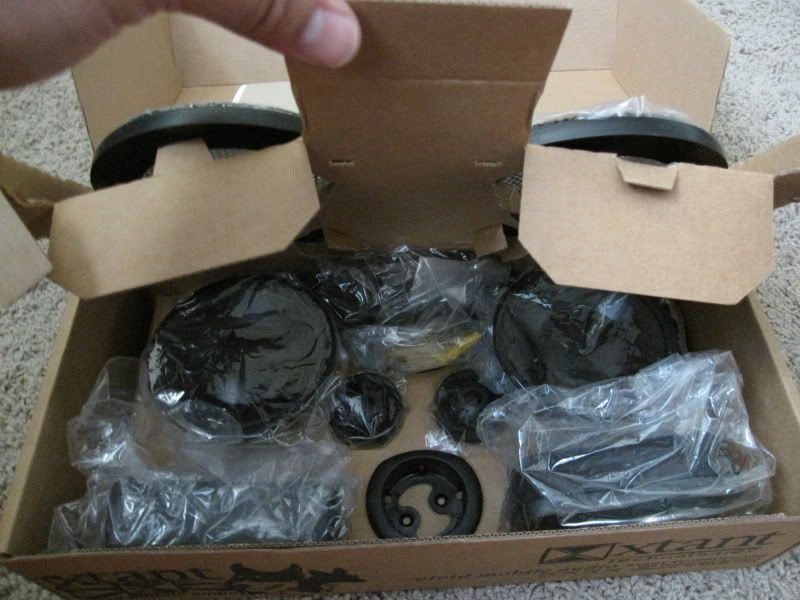 BNIB Next AL20 8" Aluminum Subwoofer
(x2) -
$75 shipped/pr OBO
These subwoofers were built my well-known OEM subwoofer company, Alumapro, for an Italian high-end now defunct Next Audio.
(pictures are the subwoofer on the right)
We can't measure the Xmax. I suspect the spec is for both ways - 11.5mm each way. That is still pretty good for an 8"

Other measured specs are:

Fs - 42.3Hz
Qms 7.48
Vas 10.44 L
Mms 86.7g
Re 3.25 ohm
Qes .467
SPL 84.2
Cms .16 mm/N
Qts .439
Le 2.65mK
BL 12.71
LNIB Rockford Fosgate RFX-8250 (Denon-made aka Denford)
-
$500 shipped OBO
This unit was bought BNIB, slightly used only for a week by me, and has been stored ever since. Im sure you can sure the history and performance of this HU but I can honestly say its is one of the best pure SQ headunits that I have used (which is many LOL). Balanced outs with direct connection to Zapco (exact same Symbilink pin-out), digital-in, AUX-in, copper chassis, see more below
Denford FAQ:
http://www.audiogroupforum.com/csforum/showthread.php?t=45370&highlight=denford
RFX-8250 Manual:
http://www.rockfordfosgate.com/rftech/library/2002/1_Source_Units/MAN4223A_RFX8240-50_Pla_MAN.pdf
Last edited:
Status

This old topic is closed. If you want to reopen this topic, contact a moderator using the "Report Post" button.