As I had mentioned before I have decided to construct a Hexagon(six sided Enclosure) in which to mount
the Pioneer B20FU20
, along with the Parts Express
ND20FA Dome Tweater
.
[IMGDEAD]http://www.parts-express.com/images/item_large/290-045_L.jpg[/IMGDEAD]
[IMGDEAD]http://www.parts-express.com/images/item_large/275-030_L.jpg[/IMGDEAD]
I first got this idea from two places. First from here with the discovery of the Chang horn enclosure, in which the Pioneer and a slightly different dome tweater from Parts Express. However, I wanted to do something a little bit different.
About that time someone, either here or over at the Parts Express forum, started a thread on the Duevel Venus. It was so different and downright beautiful that I decided then and there to make my enclosure like that one, and a slightly modified dispersion horn on top.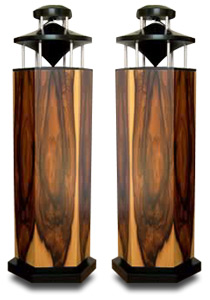 There are several different pictures showing this Duevel Venus, but the one above, with the Santos Rosewood, is the best looking to me. Santos is my favorite veneer material, and the surrounding sap wood contrasting with the heart wood really set off the veneer.
Unfortunately I could not find any examples of Santos like that, but did find a nice bit of walnut, along with sap wood, so I decided to use it instead.
[IMGDEAD]http://inlinethumb64.webshots.com/35519/2396710770037686397S600x600Q85.jpg[/IMGDEAD]
The first thing I did was practice on the table saw in order to ensure a 30% cut with each piece of plywood, and have them come out exact. My Craftsman saw did not cut exactly on the mark for 30%, but was one graduation below that number. Then I finally got the right angle, and after several attempts came up with the sample below.
[IMGDEAD]http://inlinethumb35.webshots.com/35682/2392737150037686397S500x500Q85.jpg[/IMGDEAD]
Each side is exactly 8 inches across.
Following this, yesterday I cut the pieces to size and set up my Dado blade combination, which I had just purchased for this job. I have always used my router to make rabbets and dado cuts, but never cared to pay in excess of $100 for a Dado blade set, not that I could not afford it. I just never thought it worth the money.
However, I was at Harbor Freight, looking at their 10 inch, 80 tooth carbide blade, which was less than $15, and happened to see the dado set in the blade bin. I asked a worker how much it was selling for just out of curiosity. When he came back with a $26 price tag, I finally decided that the price was more then right. I practically ran to the counter with it before they had a chance to change the price.
Naturally my blade guard would not work with a dado blade set up, so I had to fabricate one to go on the Craftsman saw. I did this by using a piece of 1/4" plywood, and removing the belt clip from an old, worn out, tape measure. The clip was for holding down the back end, and a hole drilled in the front end to secure it and I was ready to go.
I have a vacuum system attached to the saw, so I turned it on, along with the saw, and slowly raised the blade until it had cut through the homemade blade guard, to the point I wanted it to go, and that way there would be no saw dust flying around. The dust would be collected in the system and larger debris would not get sucked into the machine through any rough holes. I tried it out and Voila!, perfection.
Here are the cut pieces for one of the enclosures. As you can see on one of the top pieces, the knot hole makes the plywood a reject, but the fact that it is cabinet grade is what I was looking for.
[IMGDEAD]http://inlinethumb13.webshots.com/34124/2173425520037686397S500x500Q85.jpg[/IMGDEAD]
[IMGDEAD]http://inlinethumb45.webshots.com/33772/2691068450037686397S500x500Q85.jpg[/IMGDEAD]
To figure out the braces, I took the origional test case above, set it down on some craft paper, traced the inside dimensions on to the paper, and then added 1/4" to the sides. I figure that if it is slighely smaller than the dado cuts, it will still be fine, as I will be glueing it and also using heavy duty staples to secure the pieces.
Once I had cut the pieces on the table saw, I cut 9" holes in three of the braces with my plunge router and the Jasper jig, which was pretty straight forward.
[IMGDEAD]http://inlinethumb31.webshots.com/33758/2351719900037686397S500x500Q85.jpg[/IMGDEAD]
So, this is where I have gotten tonight. I had earlier taken two cutout pieces from OSB and lightly brad nailed the pieces together with the OSB inside the cut out pieces, as a preliminary test, and they seemed to work alright. Tomorrow I will try to put the one cabinet together, using the three braces with 9" holes, by glueing, using finishing brads, and also staples, and see if I can get it all together and look somewhere professional in the process.
If I can get it to work, I will use it, and make the second one the same way. If not, and things have this strange habit of meeting Mr Murphy, I will use it as a test and apply what I have learned with two new sets of cabinet material.
As a note, I chose to go with cabinet grade plywood in this case, rather than MDF, because I found a special at Home Depot, where Birch plywood seconds were acquired on special sale. They were going for $26 and I purchased four of them for use in my business and with this project. The plywood is a bit lighter and once glued and fastened together tightly, there should be no worry about resonance whatsoever. that is one of the real advantages of a Hexagon. the sides are not wide and the brace and support each other. With the added inner bracing, they should be rock solid.
Anyway, here is the project. I will be adding on as I go along. If you have any suggestions, question, or comments, please feel free to give us the benefit of your extensive knowlege. I have never made a six sided speaker enclosure before, and to me this is brand new ground. It looks quite daunting, and indeed it may well be. And on that I can see two real problems.
First, getting all these pieces of wood to cooperate and stay in line and even, as I attempt to glue, attach and align them all together, is going to be a real job and probably very frustrating. All the sides are straight, and I can now see the need to obtain a special router bit that will cut an interlocking groove for each surface. I'll have to look around and see what I can come up with, but until then, I will have to settle for smooth angle cuts of 30% with each side. If anyone knows where I can get a bit that will make this cut for me, I would love to know about it.
And Secondly, I am still trying to come up with a way to make the top horn dispersion piece. A member offered to help ne with the job by making them on his lathe, but I have not heard from him lately. I'll have to contact him soon, and see if he is still up to contributing to my project. I have looked into purchasing a wood lathe, but really don't have all that much need for a power tool that will take up added space and not be used to it's potential.
So, here I am just getting started, and only at stage one, with most of the planning complete(I'm certain that I overlooked a great deal already) and the pieces cut to size. Next will be that of trying to get the parts to work with me and allow me to put them all together and have it look respectable. I have a long way to go here, I'm sure. So please look at this as your project too, since my success here also depends on your interest and keeping the thread alive and interesting.