I am planning to build a PAIR of Subwoofer enclosures to act as end caps to my TV stand, with a single DIY 'SoundBar' laying across the top for center/L/R.

The goal:
-------------
- Build 2 identical Subwoofer enclosures, each using 2 drivers each, each driver (in cabinet) 180deg away from each other (front/back firing out of phase?).

- Each cabinet presents a final nominal load of 8ohms/each (so, either a pair of 4 or 16ohm drivers each).

- Each cabinet is happy seeing 150W RMS @ 8ohms.

- Both cabinets to be powered using common BASH300, 300w plate amp. 1 cabinet 'always on' @ 150w RMS x 1 @ 8ohms, second cabinet 'switched-on' in parallel to achieve final 4 ohm load, amplifier will run 300w x 1 @ 4ohms. (2 stage 'apartment living' subwoofing....lol...or 'wife' useage)

- Use 4 x 8" drivers. each driver = 4 or 16hms/each, 75w RMS/each.

Can anyone recommend any 8" drivers that would suit this application ?

They don't have to be the 'BE-ALL/END-ALL' of 8" drivers, as this is just my primary setup that will be backed up, when needed (or able to) by a 1,000w-powered 15" driver.....

I am going to continue with my simple plan of......

Last edited:
As of right now, these seem to be the front-runners......and also went on sale today for half price as it were:
Dayton SD215-88 8" Shielded DVC Subwoofer, Dual 8ohm DVC, 80w RMS, Shielded.
Dayton SD215-88 8" Shielded DVC Subwoofer | Parts-Express.com
Anyone offer anything to talk me out of using 4 of these ?
Another thing I was considering, to keep things simple, rather than a ported enclosure, was to use a matching PASSIVE RADIATOR.....

Here's what it would look like from the top:


Last edited:
I should also add....

These 8's will most likely be running up to 120-150hz on a gentle slope (12db/oct), to blend a little better with the top end which will consist of 3-4" drivers and tweeters only. I am willing to sacrifice bottom end (40hz) to better blend the top end, with this portion of the setup.

As I said previously, when needed, I will be 'turning on' the 1,000w 15"....but will stay dormant for the most part, as the wife is not a big-bass fan.
You will want to run them in phase and if you are planning a PR system, the PR's should be around 2X the cone area of the active drivers.
So, wiring the 2 active woofers IN PHASE with each other, then accomodating a 1:1 ratio of Active to Passive cone area,
will this work ?
Or
, would a side-firing port in place of the passive radiators be easier to deal with and tune ?
Alternatively...top/bottom staggered woofers ?
Last edited:
I should think both 8"ers would work better coupled together on the
same side of the box, unless you're looking for some sort of time
smeared bass rig? I agree with Cal about the polarity too.
I was actually hoping to achieve the results I was looking for, by wiring the front/rear woofers out of phase......
Would completely ditching the PR's in favour of a side-firing port, and out of phase woofers be a more favorable solution ?
OR, does this entire plan just smell a little too much like a huge time alignment/phasing problem from the start ?
Lastly.....The SIMPLE DESIGN ?



2 x 8" Subwoofers firing forward, 2 x 8" Passive Radiators in rear of SEALED cabinet.

Now, would the PR's make more of a possitive contribution being 180deg off the active drivers ? or 90deg off, with the passives firing out the side of the enclosure ?


Last edited:
What are you hoping to acheieve with the woofers out of "phase"?
The immediate impact of the front facing woofer and the 'loading' effect of the rear facing woofer, off the wall.....hoping that being out of phase, each signal would be IN PHASE when reaching my ears at the other side of the room.......
I have since given way to the twin front firing solution....now I just need to figure out how to optimize the PR placement...
...using a 1:1 ratio of ACTIVE to PASSIVE cone area, as suggested earlier.....
The ratio stated was actually 2:1 but you could build something very successful with two front firing 8" woofers and one 10" PR on each side. The 8" active and 10" passive has been used many times over the years.
Sorry, I missunderstood.
I only have 3 sides of the box to work with, as 1 side will be butt up against the component's stand.
Using 2 front firing active 8's, are you suggesting that I use 2 x passive 10's ?
With only 2 possible sides as options for the passive radiators (end/side and rear of the enclosure), how would you place them ? With twin 8's in the front, 1 x 10" PR on back, 1 x 10" PR on side ? or keep both PR's to a common side ? being either back or side ?

Yes one 8" active per 10" passive can be seen as a standard all others things considered. ie: cone mass, Xmax etc. It's far from a golden rule but it works. Right now I use one 6.5" with an 8" PR and in another I use one 8" with two 8" for my PR set up's.

If you have to use two active woofers then try and put the active and passive on the same face. So you would have one 8" and one 10" on one side and the same on the opposite side. Keeps the box more stable. That being said, is there a reason for using two woofers per?
.... is there a reason for using two woofers per?
Unfortunately there is
. Final Impedance, Power Split, Desired Output, Available Cabinet Space to fill.
If I could find (
for me anyways
) the
'Perfect 8'
, it would be:
- 8 ohms final impedance (SVC 8 or DVC 4/16).
- 150w RMS power handling,
as optimal
....and efficient.
- Affordable.
Using 2 of these per side meets every criteria that I have set out....
http://www.parts-express.com/pe/showdetl.cfm?Partnumber=295-480
I would love to go with a single 8, but can not seem to find anything that meets my criteria.
A single 6.5" using the same criteria above would also suit me JUST FINE
Last edited:

I'd mount the woofers on the front & the back, with a direct mechanical connection between the magnets & the baffles. Drivers wired in phase (both drivers compress the air in the box at the same time). This creates a system with active vibration cancelation, greatly reducing how much driver energy is passed to the box. This is called push-push loading.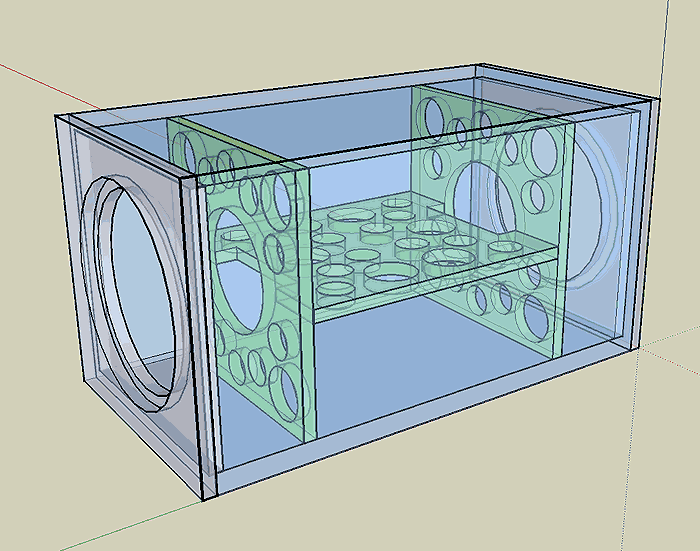 This driver is well suited to be run sealed. Minimum 60 litres (a cube with internal dimensions ~17"), but double that would be better 130 litres (cube S=20"). Any decent vented box would probably need to be bigger. (remember that stuffing can make the box seem bigger than it is -- 20% is realistic)
Situated at the floor, near the wall you are going to get lots of room gain. with F10 < 30 Hz, the lift should be in the ballpark to get you way down flat.
dave

Not very efficient but I've had good luck with these... Tang Band W8-740P 8" Subwoofer
They give up 5 dB on the daytons, but 2 drivers at the same Q as the 130 litre dayton would be 35 litre (althou giving up some extension). This one probably better run vented.
Also worthy is the ApexJr Super8
Speaker Stuff
And if you don't already have the BASH, a pair of the Foster plate amps from Jack Hidley define the phrase, "deal on plate amps". Get 2.
http://www.diyaudio.com/forums/vend...udspeaker-drivers-amplifiers.html#post1234996
dave

Message # 9 figure 1 looks like the most useful
but those PR's
should be 10" ers. If you don't have enough room on the back of
the enclosure for 10" wide PR's try a front firing slot port
between the woofers which will throw all the sound in the same
direction. Remember 4- 8" cones have the effective surface area
of one 15" cone so you will throw out plenty of bass!!
Oops sorry guys,I'm running off my phone and it doesn't always
refresh so I missed the last few posts
Last edited:

...try a front firing slot port
between the woofers which will throw all the sound in the same
direction.
At the frequencies these will be operating any side of the cabinet will be the same direction -- omnidirectional.
dave
Status

This old topic is closed. If you want to reopen this topic, contact a moderator using the "Report Post" button.
Help with small Subwoofer project