Hi I just finished the design of the cross over by LR-4th order for the 2way system. I did by the software Xover Pro which produced the tradition parallel design. However, I need spend a lot for caps and inductors. Is it possible to help me to change it to series design which the tweeter and woofer can share the component. I can then make a save Please
series are a pain to design above 2nd order, and not worth the bother (& have the same component count as the same order parallel).
I wonder why you need 4th order xovers anyway?
if that's a Seas tweeter, 2nd order is ok & it won't need all that 'impedance eq' stuff,
& Sreten is right, you need to factor BSC into the 1st LP inductor (L3)
Thanks sreten and PeteMcK for your comment My purpose of this xover is to test and taste! I have no experience in design a xover. I also have no experience in auditing the speaker by 4th design. My existing PMC TB2 is likely a 2nd order design. I want to change it to 4th order and listen. I can then see/listen the difference in the sonic performance under 2nd and 4th order. That is the purpose to modify it sreten I don't know what is happened about this design not a 4th order. I just click the button on the software. Just select the order and cut off frequency at 2000hz but the design is mainly basis on the DC resistance of the driver instead of the driver impedence About FRD, I tried already before the xover but I can't see the difference… About the diff compensation, I did! I allowed 2 to 3 db more at L-Pad at tweeter due to 3 to 4 db drop of woofer side PeteMcK The reason of selecting 4th order instead of 2nd due to my wanna try! I have no experience in auditing speaker by 4th order After I finish the design, I just discover quite lots of the components. If series design will make a pain for the design over 2nd. Let me think about whether saying in 4th order or going back to 2nd order! The reasons of the lots of filter, like notch, impedence stabilization…etc. is…listed above. I have …no experience in auditing…just trial and error. sreten and PeteMcK anyway, thanks for your advice! Apart from the design process, could you advise what will the sonic performance be basis on my design? Pls and thx!
re:'the design is mainly basis on the DC resistance', you need to use the impedance of the driver at the crossover frequency for these calculations. Looking at the frequency response graphs of those drivers, I don't think 4th order would make much difference.

Usually most people want simpler crossovers! Here's the lowest part count xover I could come up with, not including BSC, which isn't needed if the speaker are up against the wall...
PeteMcK Thanks for your comment. I will redesign the xover by the driver impedence. I know the theory for the less better than more. However, when I plot the graph by the software, the response curve is not flat or level. It varies up and down. That is the reason I add lots of filter to make the response curve flat. Since I want the xover to be connected by the different wire at difference driver, say copper for woofer, silver for tweeter, that's why it is a parallel design. I know it may create the phase difference problem. If it is happened, I can use jumper at cabinet side to connect the drivers together! Pete, I know the performance of the driver in free air condition may not be same as driver inside the cabinet, either vent or sealed. Could you advise how to make a good sound!? Anyway, Thanks for your comment.
what's wrong with the sound you already have? overview speaker, it is fine but it is a little bit dull/dark! thats why, i change from vifa to seas tweeter Water which is too pure has no fish ha...ok, I see! anyway, i will redo the work and ask again pete happy to talk to you!
sreten I don't know what is happened about this design not a 4th order.
Hi,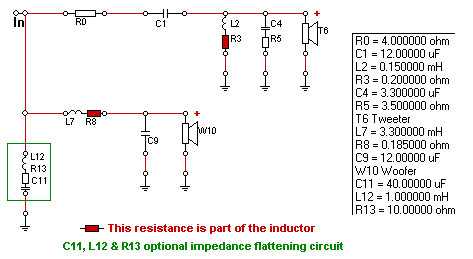 This crossover is asymmetrical 4th order Linkwitz-Riley at 1750 Hz.
Study the properly done classic way of doing a fourth order
acoustic L/R using the minimum number of components above
here :
Zaph|Audio - ZA-SR71
Study
FRD Consortium tools guide
to understand everything done in Zaphs design above.
Realise your Xover design software is useless for real hifi
speakers, unless its simply the way you are using it.
"My existing PMC TB2 is likely a 2nd order design" :
no its not. Its very likely 4th order L/R acoustic.
Read about designing 2nd order acoustic L/R filters in Zaphs
designs, e.g :
Zaph|Audio
Adjusting the L-pad on the tweeter makes sense, replacing
the crossover with something completely wrong does not,
I can tell you now it will sound a lot worse, a waste of
time and money, its the hard way to find out its not
right in the first place, and you'd still have to go off
and find out why its wrong. Once you understand
you will know it was pointless to build it.
rgds, sreten.
Last edited:
Status

This old topic is closed. If you want to reopen this topic, contact a moderator using the "Report Post" button.
HELP for change parallel design to Series design Xover