Giga-low, snicker, snicker ...
What
are
these?
They're from a CS4329 DAC demo board I have and both the DAC and the 8412 receiver have them.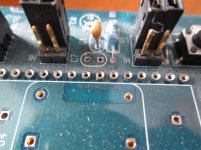 Wouldn't they make great 'sockets' for opamp swapping! They won't undo
all
your tight PCB work (usual "low" profile sockets are +7mm of extra 'trace' R,L,C etc..) with only an extra +2mm!
And you could make any size 'socket' you want: 8DIP, 14DIP, narrow, wide, ...!!1!
Where do you get them?
Cheers,
Jeff
PS I remember seeing some 1543-type DAC with them but they were a bit different (oval at the pcb) and a bit taller.
Last edited: